Phase 1 of the polls begins: 80% voting in Bengal, 77% in Assam | India News
The tribal heart of Bengal and Assam tea and the traditional stronghold of Assam came out of the voting blocks on Saturday with a turnout of 80% and 77%, respectively, amid sporadic violence involving Trinamool and BJP in the electoral epicenter East Midnapore and BJP-Congress in two electoral districts of the northeastern state.
Of the 30 seats in Bengal that went to the polls in the first of the eight phases, the focus was firmly on the seven constituencies of East Midnapore, where CM Mamata Banerjee's Trinamool and his former turncoat aide Suvendu Adhikari are, for the first time, fighting in an election. standing on opposite sides.
The windshield of a car carrying Soumendu Adhikari, brother of BJP Nandigram candidate Suvendu, was allegedly smashed by workers from Trinamool in Sabajput, just 8 km from the Shanti Kunj family home in Contai city. The brick attack, which occurred around 11 a.m. and left Soumendu's driver, Ram Singh, injured, reflected the continuing bitterness between Trinamool and the Adhikaris in East Midnapore.
Neither Soumendu nor his father Sisir Adhikari, TMC MP Contai who recently switched to the BJP, did much of the fighting.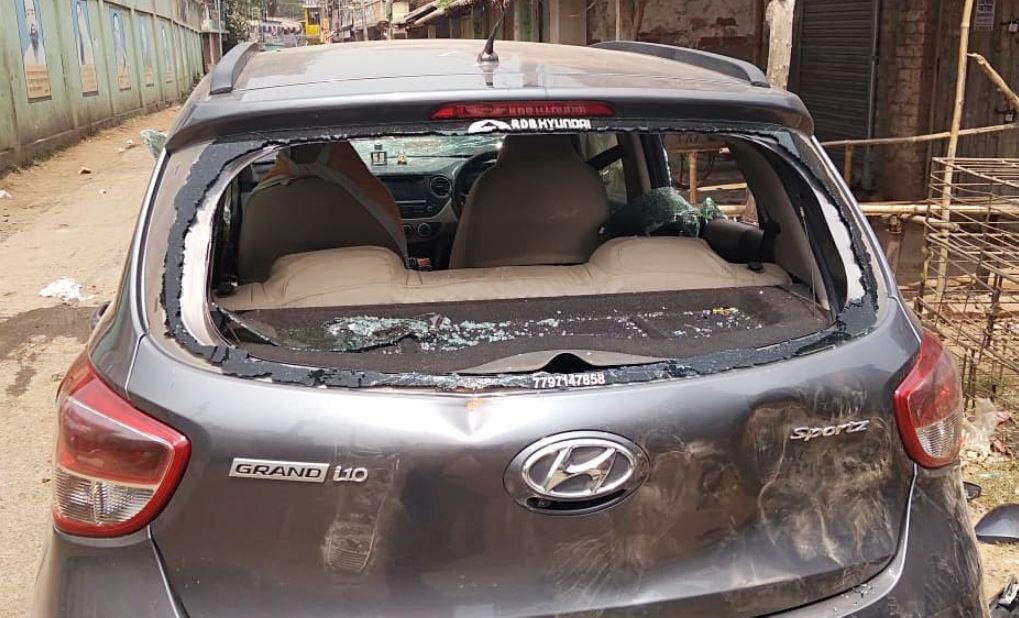 There were some other incidents: crude bombs were thrown at Pataspur to intimidate voters and voting was suspended in Majhna, about 4 km from Contai city, for an hour after allegations of EVM malfunctions. Both parties presented complaints and counter-complaints to the Electoral Commission regarding voting in the district.
However, the violence did not deter female voters, particularly Muslim women, from going out in large numbers and bringing the poll percentage to more than 80%, something that Trinamool and BJP polling agents noted with contrasting emotions.
If the number of red flags in Khejuri was any indication, the Left Front also seemed to be in the fray in some pockets. Khejuri and Pataspur had played a key role in the 2007 farmland riot that culminated in the shooting by Nandigram police that claimed 14 lives.
In Assam, the cumulative voting percentage in all 47 constituencies is likely to exceed the tentative figure of 77%, said state electoral director Nitin Khade. These 47 seats with an electorate of 81 lakh voters, including the Majuli constituency of CM Sarbananda Sonowal, had recorded a voting percentage of more than 85% in the 2016 assembly polls that brought the BJP to power in the been for the first time.
Barring minor glitches in EVMs in some polling stations and clashes between Congress and BJP supporters in Samaguri in Nagaon and Jonai in Dhemaji district, voting was generally free of interruptions.
In addition to CM Sonowal, prominent candidates whose electoral fate is now sealed in the EVMs include the president of the state Congress Ripun Bora (Gohpur), the president of the outgoing assembly Hitendra Nath Goswami (Jorhat), the president of AGP Atul Bora (Bokakhat ), the head of the imprisoned Raijor Dal, Akhil Gogoi (Sivasagar) and the President of Assam Jatiya Parishad, Lurinjyoti Gogoi (Duliajan and Naharkatia). BJP minister and star activist Himanta Biswa Sarma said the NDA would win "42 to 43 seats" of those who went to the polls in the first of the three phases.
(Contributions from Subhro Niyogi and Suman Mandal in Bengal and Prabin Kalita in Assam)