Strongly opposed to the Quad alliance: China | India News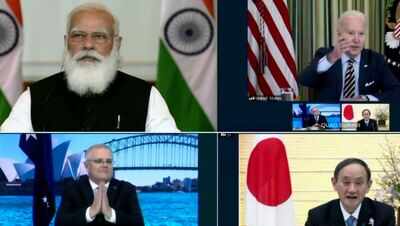 Quad leaders met for the group's first virtual summit earlier this month (ANI)
BEIJING: China said on Thursday that it strongly opposed the Quad alliance made up of the United States, India, Australia and Japan, as it asked Washington to refrain from creating "problems out of nowhere" and to do more to contribute to the regional peace and stability.
Colonel Ren Guoqiang, a spokesman for China's Ministry of National Defense, made the remarks at an online press conference when asked about the recent Quad summit and the informed statement by US National Security Advisor Jake Sullivan. , in which he asserts that Quad leaders discussed the "challenges" posed by China and had no illusions about it.
US President Biden, who organized the First Grid Leaders Summit, told coalition leaders that a "free and open" Indo-Pacific is essential for their countries and that his country was committed to working with its partners and allies in the region to achieve stability.
China strongly opposed the "four-sided mechanism" promoted by the United States as it adheres to the Cold War mentality, Ren said. He said that the Quad mechanism believes in group confrontation, is interested in geopolitical games and uses the so-called "challenge from China" as an excuse to "form cliques" and openly provoke relations between the countries of the region. "We strongly oppose this," he added.
"China is committed to building world peace, contributing to global development and defending international order. We urge the United States to shoulder its responsibilities, refrain from creating problems out of thin air and do more for regional peace and stability," he said.
FacebookTwitterLinkedinE-mail