Haryana CM Khattar calls Amit Shah and discusses agricultural protests | India News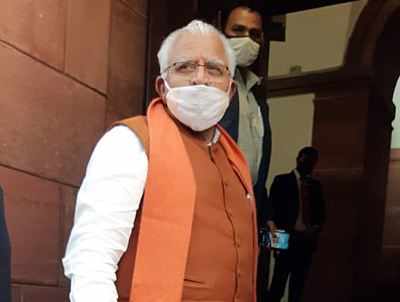 Haryana CM Manohar Lal Khattar at Parliament House on Saturday (photo by ANI)
CHANDIGARH: Haryana Chief Minister Manohar Lal Khattar on Saturday asked Union Interior Minister Amit Shah to discuss the current state of affairs in the wake of farmers' upheaval, as well as other issues related to the state .
Khattar visited Shah in his office in Parliament. The meeting lasted about an hour.
Interacting with people in the media, Kattar avoided questions related to her cabinet expansion.
"When it comes to cabinet expansion, we will inform you when it happens," he said.
Referring to the farmers' unrest, he said the interior minister has been briefed on the situation and the ongoing Kisan Panchayats organized by farmer leaders across the state.
Khattar also indicated the government's plans to publish legislation on damage to public property. He said the legislation may come during the budget session. "Now those who cause damage will have to pay for it," he said.
FacebookTwitterLinkedinEmail