After 30 weeks, Covid deaths below 2,000 in the last 7 days | India News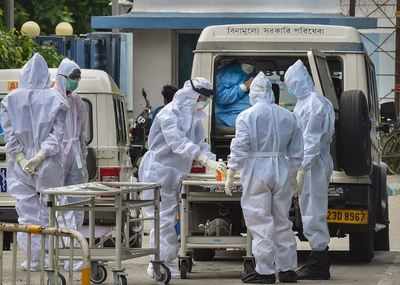 India recorded fewer than 2,000 deaths from Covid-19 in the past seven days, the first time in 30 weeks that the weekly figure has fallen below that mark.
1,748 deaths were recorded during the current week (Dec 28-Jan 3), a 16% drop from the 2,087 figure the previous week. The last time the weekly death toll in India was below 2000 was from June 1-7, when 1,797 deaths were reported.
The deaths recorded this week were the lowest since the last week of May, more than seven months ago. The weekly death toll is almost a fifth (21.3%) of what it was during the September 14-20 peak, when 8,175 deaths were recorded.
The new case count has also dropped to almost a fifth of the peak of the pandemic in the country. This week, new cases fell to 132,765, 13% less than the previous week. This was the eighth consecutive week of falling cases. The current week's count is the lowest since 1.2 lakhs of cases were recorded in the last week of June (June 21-28).
The Covid-19 pandemic has been in recession in India since mid-September. On Sunday, new cases fell to 16,733, a drop of nearly 1,400 from the previous day's count. 217 deaths were reported that day. The active case count fell below 2.5 lakh, while the total number of cases stood at 1.03,41,502. Kerala again added the highest number of new cases with 4,600, while there were 25 deaths in the state. No positive cases were detected among returnees from the UK in the past 24 hours, state health minister KK Shailaja said.
FacebookTwitterLinkedinEmail