First in 6 months: 7-day average of cases per day below 20,000 | India News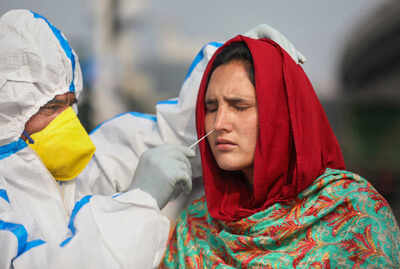 NEW DELHI: In what will bring joy on New Years Day, the daily average fresh COVID-19 case count in India fell below the 20,000 mark on Friday for the first time since July 2. The seven-day moving average of daily cases was 19,545 on Friday, a day on which just over 19,200 new infections were registered in the country.
The seven-day moving average on any particular day is the average number of cases recorded that day and the previous six days. The index was last below the 20,000 mark on July 2, nearly six months ago, when it stood at 19,615. The average had peaked at 93,735 on September 17 of last year, a day when the highest number of daily cases was also reported (98,795). The index is currently at less than a quarter of the peak.
India also reported 220 deaths from the virus on Friday (with figures for Assam, Meghalaya and Nagaland not yet coming in until midnight). This was the lowest single-day death toll in the country since June 2 and the first time the number fell below 250 since that day. There were 219 deaths reported on June 2, according to TOI's database compiled from state governments.
Only three states reported new cases in four figures on Friday. Kerala continued to report the highest case count in the country with an addition of 4,991 on Friday. Maharashtra had the second highest tally with 3,524, followed by Bengal (1,153) and Chhattisgarh (932). The total number of cases in the country stood at 1.03.06.561. Maharashtra again recorded the highest number of deaths (59), followed by Bengal (26), Kerala (23) and Delhi (21). The cumulative number of victims of the virus had risen to 149,197.
FacebookTwitterLinkedinEmail