Daily Covid Deaths Drop to 7-Month Low of 216 | India News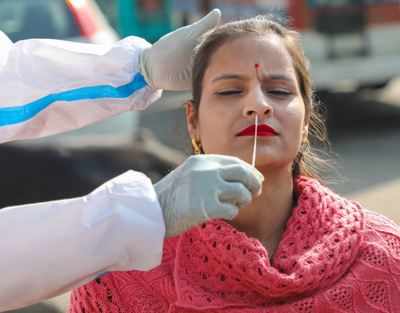 A health worker takes a nasal swab from a woman for COVID-19 testing, in Jammu (PTI)
NEW DELHI: Daily deaths from Covid-19 in India fell to a seven-month low, as 216 deaths were recorded in the country on Saturday, the lowest since June 1.
The new case count also dropped to 18,153, nearly 1,000 less than the previous day's count, but this was partly due to a sharp drop in testing on New Year's Day. Fewer than 8.3 lakhs of tests were conducted nationwide on Friday, 2.3 lakh less than the day before.
Along with a steady decline in new cases, India has been reporting fewer deaths from the virus since the daily toll peaked on September 18, when 1,244 deaths were recorded.
On Friday, the death toll fell to 224, the first time since June 2 that the daily figure fell below 250. Maharashtra continued to record the highest death toll in the country, with 51 reported on Saturday.
Bengal had the second highest number of casualties with 28, followed by Kerala (21) and Punjab (15). The daily figure continued to fall in Delhi, with 14 deaths reported on Saturday. On the 300th day since the first Covid cases were reported in Maharashtra, both the state and its capital, Mumbai, reported a marginal drop in new cases and deaths.
A total of 3,218 new cases were reported in the state on Saturday, bringing the total to 19,38,854. The total death toll rose to 49,631.
On Saturday, the state update said 593 cases were added to Mumbai tally. For the fourth day in a row, Delhi's new case count was lower than Mumbai. The national capital recorded 494 cases, which was the first time in more than seven months that the daily count has fallen below 500, according to Delhi's health minister Satyendar Jain.
Uttar Pradesh recorded 728 new cases and eight deaths, the lowest in the last six months. Health officials said that of the total deaths reported in UP, nearly 45% of the patients were over 60 years old and more than 50% had at least one comorbid condition.
Andhra Pradesh analyzed 48,518 Covid-19 samples to detect the 238 new cases, which translates to a positive case rate of less than 0.5%. This is the lowest single-day case positivity rate in the past seven months.
FacebookTwitterLinkedinEmail