Covid: sanitation personnel, pharmacists may be on the first vax list | India News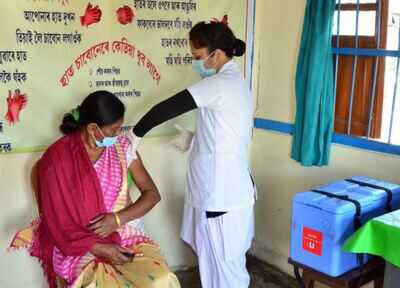 Frontline healthcare workers line up as fictitious beneficiaries of the Covid-19 vaccination trial that took place at the Urban Center for Primary Health in Tezpur on Tuesday. (ANI photo)
NEW DELHI: Amid speculation about whether sanitation and pharmaceutical workers will be considered for Covid-19 vaccination in the initial phase, the government has begun work to include them in the 'priority' population after the prime minister Modi praised their efforts as 'front line' crown warriors. during his speech Thursday while laying the foundations for AIIMS, Rajkot.
The government aims to inoculate 30 million people in the first phase of vaccination against Covid, which includes around 3 million million healthcare and frontline workers. In addition to doctors, nurses, ANM and ASHA, the plan was to include some of the allied healthcare professionals, such as those working in pharmaceutical and diagnostic laboratories. In addition, sanitation workers, garbage collectors and ambulance operators are also being considered to receive the vaccine in the first phase.
While some of the categories lacked clarity, the PM's mention of sanitation and pharmaceutical workers has emphasized the need to put these people on the priority list, an official said.
The 'priority' population list also includes people over 50 and under 50 but with severe comorbidities. Thursday's prime minister also warned people against any rumors about vaccination.
"Different people because of their vested interests or irresponsible behavior spread various rumors. Rumors may be spread when vaccination begins, some have already started," he said, asking people to be careful with such rumors and as responsible citizens to refrain from forward such messages on social media without verification.
FacebookTwitterLinkedinEmail