Covid cases fall to a 6-month low of 8.2 lakh in December | India News
In a year ruined by the pandemic, there was reason for cautious optimism at the end, as December saw the lowest count of new Covid-19 cases in six months and the fewest deaths from the virus since May.
Some 8.24,000 cases were detected in December, the lowest monthly count since June and a 35% decrease from the November count. It was also the first time since June that the monthly case count in India was below the 1 million mark. July was the first month in which more than a million infections were reported in India at 1.1 million. Almost 11,400 deaths from the pandemic were recorded in December, the lowest number in seven months. The pandemic claimed fewer lives for the last time in a month in May, when the figure was 4,267. In June, 11,988 deaths were recorded, slightly more than the December number.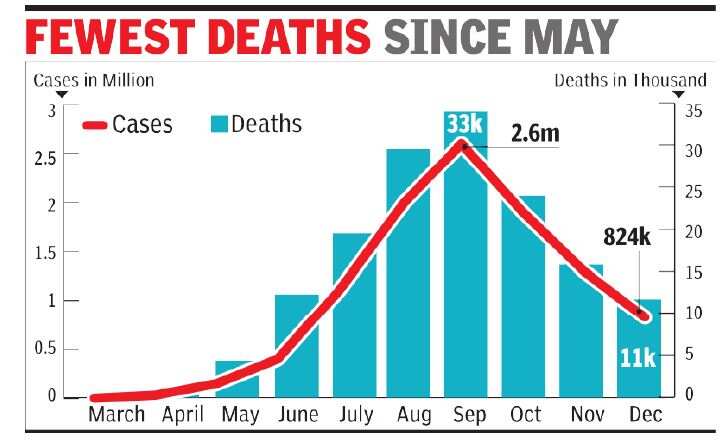 December was also the third consecutive month of falling Covid cases and deaths since the pandemic peaked in September. More importantly, daily cases continued to decline during December, with no signs of an increase to date. The seven-day moving average of daily cases stood at 40,868 on November 30. A month later, on December 30, it dropped to almost half of that number to 20,507, indicating that the daily numbers almost dropped by 50% over the course of the month. December was also the second month after October to record a decrease in the seven-day average of daily cases for every day of the month.
Compared to the previous month, December registered a 35% drop in cases. This was the steepest monthly drop on record to date. Cases had fallen 32% in November and 29% in October.
India has so far registered 1,02,87,267 cases of coronavirus, the second highest in the world after the United States. The death toll from the viral infection stood at 1.48,976 as of Thursday night, according to data collected from the states. India has the third highest number of victims of the pandemic after the United States (3.5 lakh) and Brazil (1.9 lakh).
By Thursday, the last day of the year, 19,886 cases had been reported as of around midnight, and numbers have yet to be received from Assam and Meghalaya. The day's death toll stood at 255. There were almost 2.55 lakhs of active cases in the country, although currently the number has dropped by a few thousand every day. The number of recovered patients stood at 9.88 lakh, which represents 96% of all cases.