Covid-19: 10 more tests + ve for the UK variant | India News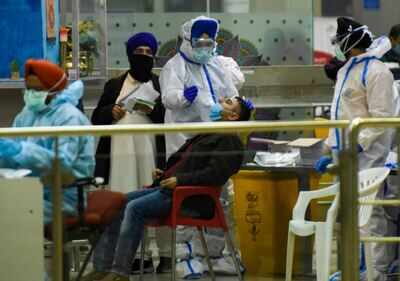 A health worker collects a swab sample from a passenger for the Covid-19 coronavirus test upon arrival from London, at Amritsar Airport (AFP)
Ten more returnees from Britain tested positive for the mutant variant of the SARS-CoV-2 virus found in the United Kingdom on Wednesday, bringing the count of these patients in India to 17. With four cases each, Karnataka and Delhi accounted for 80% of the cases. loading of the new variant on Wednesday. One infection each was reported in Uttar Pradesh and Bengal.
With four members of a Shivamogga family testing positive on Wednesday, the number of people infected with the UK strain in Karnataka rose to seven, 40% of the country's number of cases. CM BS Yediyurappa urged all returnees from the UK and other countries to get tested for their own safety. "Instead of disappearing, they should be tested. The UK variant spreads very easily," he said.
Karnataka Health Minister K Sudhakar said that of the 26 returnees from the UK who tested positive for Covid-19 upon arrival in Karnataka, seven were found to be infected with the UK variant after genome sequencing . Three of them are from Bangalore.
The three Bengalis, including a mother and her six-year-old daughter, are being treated in a separate room at Victoria Hospital, a government facility. The same protocol is followed for the Shivamogga family: a couple and their two children, ages 4 and 13.
The Shivamogga family had landed from the UK in Bengaluru on December 21. Before leaving for Shivamogga, they met friends and relatives in the Whitefield area of ​​Bengaluru, Shivamogga District Deputy Commissioner KB Sivakumar said. They also met people in the Chikkamagaluru district.
In Delhi, a total of 38 returnees from the UK and their contacts tested positive. Of these, four were found to be infected with the new strain.
The Bengal patient who tested positive for the new strain is from Calcutta and had returned on December 20 from the UK where he was working. He has been in the isolation ward at Medical College Hospital since then and is asymptomatic.
FacebookTwitterLinkedinEmail