Caution even though vaccination will be the mantra for 2021: PM Modi | India News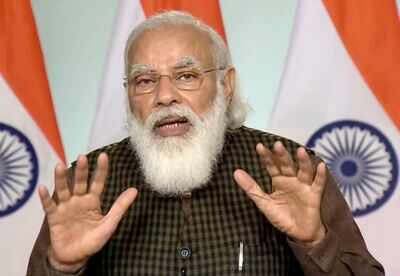 Prime Minister Narendra Modi addresses after laying the foundation stone for AIIMS in Rajkot, Gujarat via video conference (ANI)
RAJKOT / NEW DELHI: Prime Minister Narendra Modi said on Thursday that New Year 2021 "comes with hope for a treatment" for Covid just as India prepares for a vaccine launch, even as he emphasized the need to continue to observe practices safe.
He also warned people against rumors about vaccination. "Different people for their vested interests or irresponsible behavior spread various rumors. There may be rumors that will spread when the vaccination begins, some have already started," he said, asking people to be careful and as responsible citizens to refrain from forwarding such messages on social networks.
"Before, I said 'Dawai nahi toh dheelai nahi' (no medicine, therefore no slack). Now, I'm saying 'Dawai bhi aur kadaai bhi' (Medicine and strict observance)," Modi said after laying the first stone of AIIMS in Rajkot, Gujarat. This, he said, should be the mantra for 2021.
Modi said that although Covid cases are declining, people should not take it easy as the virus still has the potential to rapidly infect people. "Therefore, there should be no compromise with social distancing, masks and cleanliness," he said. "Don't get the impression that you can have all the freedom since we got the vaccine. Even the scientists are saying this." said the PM.
Modi also said that India has become the nerve center of global health and has effectively addressed the pandemic with timely measures. "India's record in fighting the pandemic has been much better than other countries," he said.
FacebookTwitterLinkedinEmail