Terrorist plot to attack J&K temples thwarted, trio arrested | India News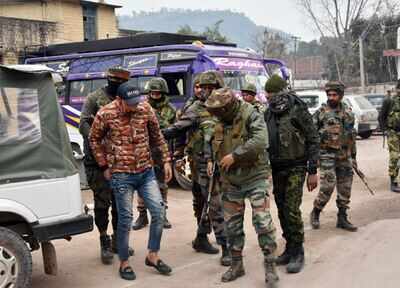 Three associates of the militant group J&K Ghaznavi Force arrested after the Army and J&K Police arrested a module in the Poonch district on Sunday. (ANI photo)
JAMMU: Police claimed Sunday to thwart a terrorist plot to attack temples in the Poonch border district by arresting three terrorists linked to Pakistan, as well as recovering six grenades from them. The trio is said to be affiliated with the J&K Ghaznavi Force, a newly launched terrorist team.
Two foreign terrorists from the group were killed in an encounter at Poonch's Dogrian on December 20.
"Acting on intelligence input, a joint team of the Army's 49RR, J&K Police Special Operations Group, and Poonch Police established a checkpoint in Basooni on Saturday night and intercepted a driven vehicle. by Mustafa Khan, a terrorism suspect, who was questioned about his suspicious movement. Mustafa confessed to his involvement in terrorism-related activities, so two of his associates, Mohammad Yaseen and Rayees Ahmed, both residents of Dabbi, Balakote, were arrested, "said Poonch SSP Ramesh Angral.
Following sustained questioning of the trio, security forces obtained vital leads and raided Mustafa's residence in the Galutha Harni area of ​​Mendhar, where six grenades and other incriminating evidence were recovered, including posters from the J&K Ghaznavi Force.
The SSP said the three were in regular contact with their Pakistan-based handlers, who instructed them to carry out terrorist attacks. "Interrogation further revealed that they were planning terrorist attacks at religious sites in Poonch in an attempt to spark communal tensions in the region," he said, adding that some videos of grenade handling were found on the mobile phones of the accused.
"With the arrests, the security forces unearthed a nexus involving local terrorists transporting merchandise and narcotics," said Jammu's defense spokesman Lt. Col. Devender Anand, adding that searches were still ongoing in the area. .
On Saturday, Jammu police detained a Resistance Front module and arrested two affiliates in addition to recovering a huge cache of weapons and ammunition. In early November, four Jaish-e-Mohammad ultras were killed near Nagrota on the Srinagar-Jammu National Highway in a counterterrorism operation.
FacebookTwitterLinkedinEmail