4 Government Managed Film and Media Units to Merge with NFDC | India News
NEW DELHI: The Union cabinet on Wednesday approved the merger of four government-run film and media units – Film Division, Film Festival Directorate, National Film Archives of India and the Autonomous Children's Film Society, in the National Corporation for Cinematographic Development for the "convergence of activities and resources and better coordination".
Time view
The merger is a big step by the government. Despite the limitations, all of these institutions had developed a distinct identity in their respective fields over the years. One just hopes that putting them under one umbrella actually leads to better performance and not the other way around.
Did some units with high salary bills contribute little?
The vision of the new entity will be to guarantee a balanced and focused development of Indian cinema in all its genres; feature films, including films, content for OTT platforms, children's content, animation, short films and documentaries ", said the statement from the Union's cabinet.
The sources said that recommendations for closer coordination of the work done by the film and media units were first proposed by the Bimal Julka Committee. The view was also expressed that units such as the Films Division, the oldest of the four, generated high salaries but had contributed little in terms of quality content over the years.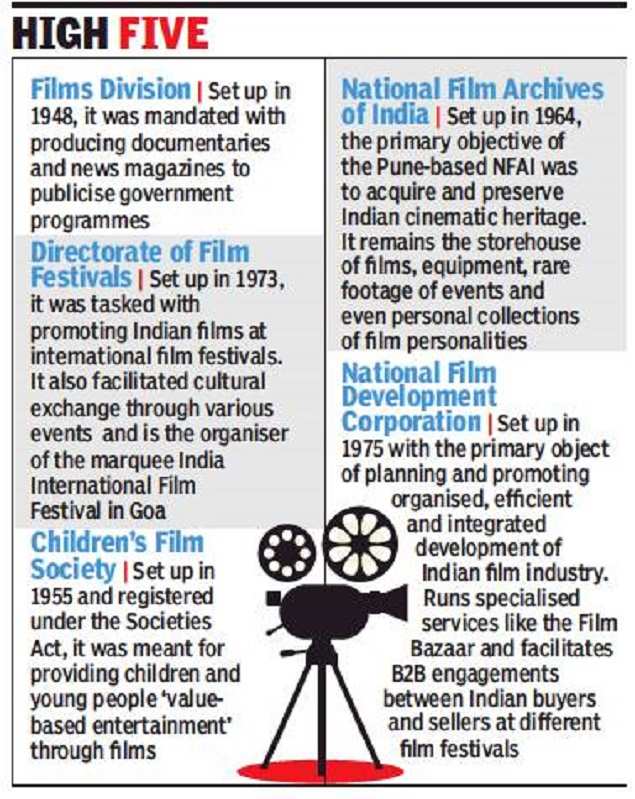 While each of the film units, such as the National Film Archives of India, the Film Festival Directorate, and the Children's Film Society, were given a specific mandate when they were established, the units were deemed to have failed throughout. over the years to keep up. to the industry standard and would be better managed if you brought them together under one roof with different verticals, rather than separate units specialized in designated areas.
Sources said the government may offer a one-time corpus of funds to the NFDC to set up the necessary systems, but the company will eventually need to find funds and operate independently, thus reducing the burden on the state treasury.
The merger also brings into the NFDC fold the autonomous Children's Film Society, which was founded in 1955 under the Companies Act to provide values-based entertainment through films for children and young adults. With a set budget of Rs 3 crore per film, which is significantly less than film budgets in the current scenario, sources said that the quality of the content has suffered.
In announcing the merger on Wednesday, the government clarified that there will be no layoffs and that the interests of all employees associated with all units will be protected.