Jammu Kashmir DDC Elections 2020: Third Phase of Voting In Progress | India News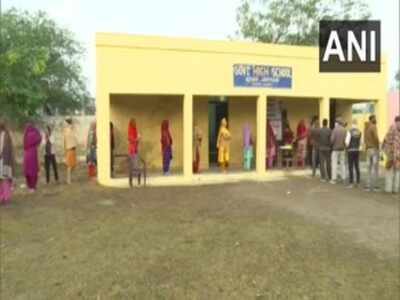 People queue up for the third phase of the DDC elections in Jammu's Chak Jafar. (Credits: ANI)

NEW DELHI: Voters in Jammu and Kashmir on Friday queued for the third phase of voting in the District Development Council (DDC) elections, where residents of 33 constituencies are ready to vote. Voting began at 7 am and will continue until 2 pm. The elections will conclude on November 19 and the count will take place on December 22.
Here are the main developments:
A total of 7.27 lakhs of voters will exercise their right to vote to decide the fate of 305 candidates in the third phase of the DDC polls.
Out of a total of 280 constituencies in the J&K union territory, in the third phase voting will take place in 33 constituencies: 16 from the Kashmir division and 17 from the Jammu division.
Up to 166 candidates from the Kashmir division and 139 from the Jammu division are taking part in the polls, said State Elections Commissioner (SEC) KK Sharma.
Adequate security arrangements have been made. The Election Commission also urged people to follow the Covid-19 guidelines.
Voting for 280 electoral districts will take place in eight phases and coincides with the by-elections for the sarpanch and panch elections.
In the polls for Sarpanch's offices, 66 of the 126 total constituencies will be voting on Friday. A total of 184 candidates are in the fray.
In general polls, out of 1,738 electoral districts, 798 have been elected unopposed. Voting will take place in 327 electoral districts for which 749 candidates are in the fray.
The first phase took place on November 28 with almost 52 percent of the electorate exercising their voting rights in both divisions.
In 43 electoral districts that went to the polls in the second phase of the District Development Council (DDC) elections, total voter turnout was 48.62%. While the Jammu division recorded an average voter turnout of 65.54%, the Kashmir division recorded a voter turnout of 33.34%.
The DDC elections and sarpanch & panch by-elections mark the first democratic exercise in Jammu and Kashmir after the repeal of Article 370 and the bifurcation of the former state of Jammu and Kashmir into two union territories last year.
FacebookTwitterLinkedinEmail