Cyclone Nivar expected to make landfall near Chennai: dos and don'ts | India News
NEW DELHI: Cyclone 'Nivar', which is expected to make landfall between Karaikal and Mamallapuram on Wednesday, will bring very heavy rains in and around the city. Nivar is likely to turn into a cyclonic storm on Tuesday morning about 400 km from Chennai before turning into a severe cyclonic storm. While IMD officials said it was likely to cross the coast near Puducherry, online weather trackers said global models predict it could get closer to Chennai. Here's how you can ensure your safety during and after a cyclone:
DO's AND DON'T DO BEFORE THE CYCLONE
Ignore the rumors and don't panic
Keep phones charged, use SMS
Stay on top of weather updates
Keep documents and valuables in waterproof containers.
Prepare an emergency kit with essentials.
Unleash livestock / animals to ensure safety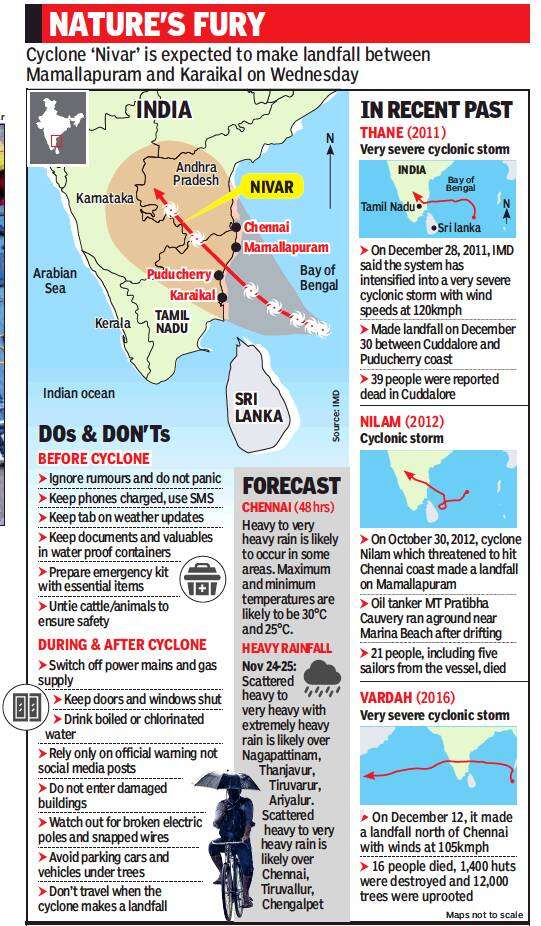 WHAT TO DO AND NOT DO DURING AND AFTER THE CYCLONE
Keep doors and windows closed
Trust only official warnings and not social media posts
Do not enter damaged buildings
Beware of broken power poles and broken cables
Avoid parking cars and vehicles under trees
Do not travel when the cyclone makes landfall
Drink boiled or chlorinated