MP plans to levy taxes to finance cow welfare, says CM | India News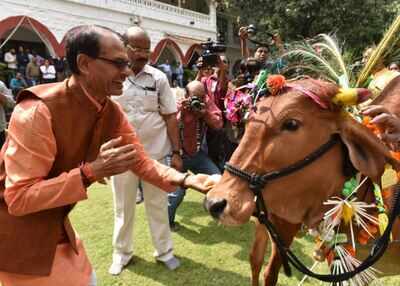 In this photo from 2017, Madhya Pradesh's Chief Minister Shivraj Singh Chouhan is seen offering food to the cow during Govardhan Puja.
BHOPAL / UJJAIN: Madhya Pradesh Prime Minister Shivraj Singh Chouhan held the first cow cabinet meeting on Sunday in Bhopal, saying he was considering withdrawing funds for the welfare of cows. Malnourished children will be given milk, not eggs, at midday meals, he said.
The CM had previously announced that the "gau cabinet" would have its first meeting at the cow sanctuary in the Salaria village of Agar-Malwa, about 220 km from Bhopal, but finally held it by videoconference. He visited the shrine later that day and said it would become a model for the country.
During his visit to the cow sanctuary in Salaria village, Chouhan said, "I am thinking of imposing a lower tax on the public to raise money that can be used for the maintenance of gaushalas (cow stables)."
He remembered how it used to be the practice to "get the first roti for cows and half roti for dogs." "But this culture is fading … So we are thinking of charging a small fee to the public to use the money to maintain the stables."
The government will draft a policy for the protection and welfare of cows and has solicited suggestions from social organizations, institutes and cow experts, Chouhan said. A 'cow tourism' policy will be implemented to connect the current generation with gau seva.
As part of the plan, milk will be given to children in Anganwadis, he said, adding: "This will not only improve the health of the children but also increase the income of farmers."
At the virtual meeting earlier in the day, Chouhan called for the 'maximum productive use' of cow urine (gaumutra) for medicinal purposes and cow manure as a fertilizer and green fuel. At the Salaria meeting, Sant Samaj from Gujarat said that it is necessary to promote "gau-seva tourism". The CM suggested that pesticides be made from gau-mutra to "rid us of poisonous chemicals."
Six departments are part of the cow cabinet – animal husbandry, agriculture, panchayat, forests, household and income – and all will work in synergy, he said.
At the cow sanctuary, the CM spoke with the sadhus and presented a proposal for voluntary organizations to perform gaushalas. "On the auspicious occasion of Gopashtami today, there is a feeling that a policy should be made regarding gau-seva in Madhya Pradesh," he said, adding, "Instead of gaushalas being run only by the government, it would be better connect with voluntary organizations that believe in this and respect it. "
Chouhan asked the Vice Chancellor of Nanaji Deshmukh University to establish a research center for cows in Salaria and a training center for the operation of gaushalas. Efforts should also be made here to establish a National Service Plan camp.
FacebookTwitterLinkedinEmail