It's a lonely Diwali for healthcare workers | India News
It started this March. Ananta Shah, a lab technician at the Civil Hospital in Gurgaon, has since been collecting samples from Covid-19 patients every day. It has been relentless. The numbers are overwhelming and there are always more samples to collect than the slots can accommodate. But Shah remains focused on ticking off the list given to him every day and will spend Diwali doing more of the same, rushing from collection points to the lab.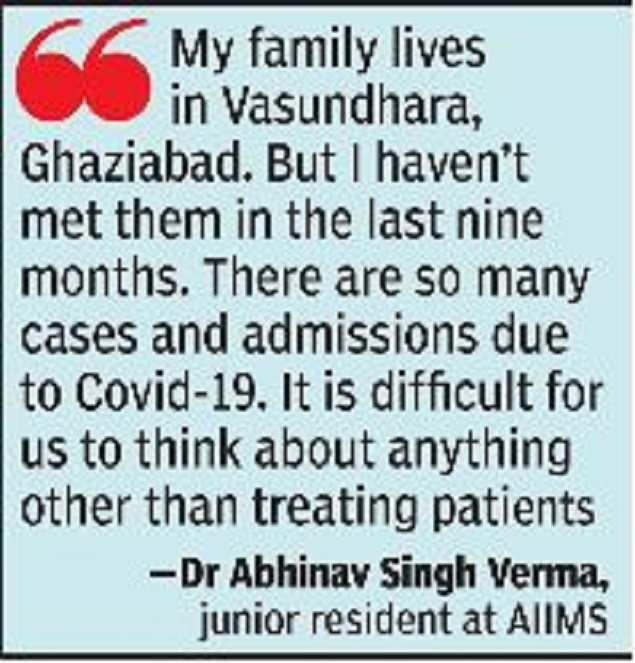 He doesn't know when he can go home to Malda in West Bengal next. If time permits, you might see your family, wife and 15-year-old daughter, whom you last met over a year ago, on a video call on Diwali. "I wanted to go home in March, but the pandemic changed everything," said Shah (37). "I collect more than 60 samples a day from various places, which is a crucial part of the process. It is also risky, because the chances of contracting the virus increase. But I do my part for society. I am not going home because I cannot leave my work in the current circumstances. In addition, there is also the fear of infecting my family members, "he added.
Dr. Nadia Qazi (34), Resident Medical Officer at Fortis Hospital in Gurgaon, has also not met her parents, who live in Srinagar, for a year. "My parents are worried about me. But we have had more patients, so we cannot say goodbye," he said.
This Diwali, many healthcare workers in Delhi-NCR are burning the candle from both ends, working overtime as cases increase, but avoiding going home to meet loved ones. The holiday season for them has been endless work in hospital wards, OPDs, labs, and ambulances. Come Christmas and New Years, expect the same routine. If the Covid-19 cases decrease by then, it will bring a degree of satisfaction. Maybe he smiles too, and hopefully a little family time.
Dr. Ram Prakash Rai, a Gurgaon-based epidemiologist, said that on Diwali day, he, along with the team of frontline health workers, will visit various areas of the city to conduct a screening exercise. "Cases have been on the rise. We can't take a break. A number of contacts have to be traced and any delay could mean more infections," he said. "This is the first Diwali that I am away from home. My family is worried about me, but the right step is to stay away," added the doctor, a native of Bihar.
At Delhi's Lok Nayak Hospital, Dr. Richa Narang, chief resident of the anesthesia department, said that her Diwali will be spent away from her loved ones, who are staying in Kaushambi of Ghaziabad, as she will be on duty on Saturday at the ICU. "My mother would want me to come home, even briefly. But she also realizes that it is important for me to be in the hospital so that I can save lives," he said.
Dr. Keshave Singh, president of the resident physician association at Maulana Azad Medical College, has also not met his family in several months. "I'm working on Diwali. But that's not unusual. Doctors work independently of festivals," he said.
Dr. Ashutosh Niranjan, Medical Superintendent for Sharda, an L3 Covid hospital in Greater Noida, said YOU, "We usually go to Purnia and meet our extended family during the holiday season. But this year my son and daughter in law were unable to travel from the US due to Covid-19 and I will be working on Diwali while we have almost 130 patients. in the hospital, 32 of whom are in the ICU. This is a difficult and unusual time for us. Even to rejoice we need to be healthy and safe, and that is something we can no longer take for granted. "
Dr. Abhinav Singh Verma, junior resident, neurosurgery, at AIIMS, will be on call at the institute's trauma center. "My family lives in Vasundhara, Ghaziabad. But I have not met them in the last nine months. There are so many cases and admissions due to Covid-19. It is difficult for us to think of anything other than treating patients." Dr. Verma said. "Our children, of course, want us to go to the market to buy candles, diyas and firecrackers and spend time with them at festivals," added Harish Kajla, AIIMS nursing officer. "But duty is more important."
Gurgaon Medical Director Dr. Virender Yadav said YOU He hasn't taken a single day off since March. He also does not visit his parents, who live in Faridabad. "My parents are older and have comorbidities, so I avoid going home. We are in a war situation and we cannot lower our guard," he said.
Many frontline healthcare workers have seen their colleagues become infected. They are never sure if they are not carriers of the virus and do not want to put their families at risk. "I'm staying in a guest house and I haven't been home for six months. Some people on my team are infected and I don't want to risk going home," said Devender Kumar, who manages the ambulance fleet in Gurgaon. . Civil Hospital.
Sanjay Yadav, a laboratory supervisor for the Ghaziabad tuberculosis department, said he will celebrate Diwali on his mobile phone. "I am on duty 24 hours a day, as instructions to change a Covid patient can come in at any time. There is not a single night that one or two calls have not come in to admit patients to hospitals," said.
Since the start of the pandemic nine months ago, healthcare workers have been among the most vulnerable groups facing exposure to the new coronavirus. About 650 doctors have succumbed to Covid across the country. In Gurgaon, 101 health workers have contracted the virus so far. According to Dr. Vinay Aggarwal, a member of the Indian Medical Association, more than 24 doctors have died from Covid in Delhi. "The situation is very serious. There are not enough beds available. People must stay indoors and follow all precautionary measures to save themselves and mitigate the difficulties that health workers face in treating patients in such situations," said.