Government eliminated Rs 4.4 million bogus ration cards in 7 years | India News
NEW DELHI: The government has removed nearly 4.4 crore of bogus ration cards in the past seven years and more than a third of these (approximately 1.7 crore) were in Uttar Pradesh. The other two states where a large number of such ghost cards were removed are West Bengal (68 lakh) and Maharashtra. Karnataka, Rajasthan, Telangana and Jharkhand have also eliminated more than 10 lakh of phantom ration cards each.
West Bengal is the only state where ration cards are issued to individuals, while in other states and UT, ration cards are issued to families. The exercise to eliminate phantom ration cards by the Food Ministry began in 2013 shortly after the then UPA government passed the National Food Safety Act (NFSA) and began the process of digitizing ration cards. . But implementation accelerated after 2014 and since then the removal of such fake cards has quadrupled.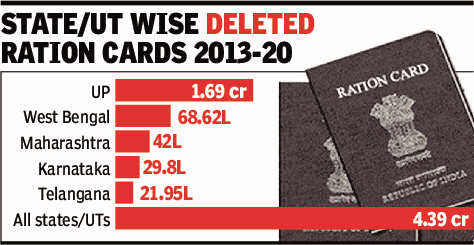 The digitization of the ration cards, along with the Aadhaar planting campaign and the installation of ePoS machines in the ration shops, have helped the government ensure that only legitimate beneficiaries receive the highly subsidized food grains and also that the grocery store owners distribute food grains to everyone. The beneficiaries. Now there is hardly any possibility to modify the figures, as the details are captured electronically.
The maximum number of fake or duplicate ration cards was removed from the system in 2015-16 when more than 80 lakh of such cards were removed. "While we eliminated a large number of those cards, we have also added new beneficiaries who require the subsidized food grains. The main purpose of the NFSA is to ensure that the legitimate beneficiaries get the benefit. In a way it is a great savings, "said an official.
Under the NFSA, the Center is providing food grains to states for distribution to nearly 81.4 crore beneficiaries at a subsidized rate of Rs 2 per kg of rice and Rs 3 per kg of wheat. Each beneficiary has also been receiving 5 kg of additional food grains per month for free under PM Garib Kalyan Yojna since March. The government has yet to decide whether this will extend beyond November 30.