6-7 Pak Soldiers Killed, Several Wounded in Retaliation for Indian Shooting Across LoC | India News
NEW DELHI / SRINAGAR: India on Friday carried out punitive fire attacks in retaliation against posts, bunkers and fuel dumps along the Line of Control in Kashmir, in which between six and seven Pakistani soldiers were reportedly killed. and several more were injured. Five Indian soldiers and four civilians, including a woman, also lost their lives in the intense cross-border exchange of gunfire.
The largest escalation of hostilities with Pakistan came amid the ongoing military confrontation with China in eastern Ladakh, in another stark reminder of the two-front collusive threat facing India along its long-unresolved borders. time with the two neighbors with nuclear weapons.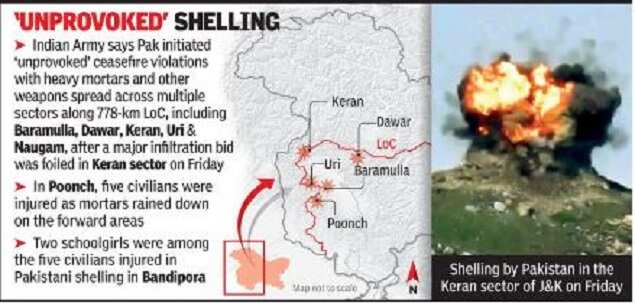 India has already recorded up to 4,052 ceasefire violations (CFVs) by Pakistan this year, breaking all annual records in the past 17 years. India has lost around 20 soldiers and an equal number of civilians, and many more were seriously injured in the CFVs this year.
Both armies have often used 105mm and 155mm artillery guns, anti-tank guided missiles and "caliber scale" heavy mortars to target each other, as was the case on Friday.
Indian army officials said Pakistan initiated "unprovoked" CFVs with heavy mortars and other weapons spread across multiple sectors along the 778 km long LoC, including Baramulla, Dawar, Keran, Uri and Naugam, after that a major infiltration campaign in the Keran sector was thwarted. from Kupwara district on Friday morning.
"Pakistan deliberately attacked our civilian areas. Our troops retaliated vigorously and hit them very hard, causing substantial damage to the infrastructure of the Pakistan Army throughout the LoC. Several ammunition and FOL (fuels, oils and lubricants) dumps and multiple terrorist launch pads were damaged in our retaliatory attacks, "said a senior officer, speaking to TOI.
"Radio interceptions suggest that six to seven Pakistani Army soldiers, including two commandos from the Special Service Group (SSG), who often participate in BAT (Border Action Team) operations, were killed in our fire. Another 10-12 were injured, "he added. The Army even released short video clips of targeted fire attacks to destroy Pakistani positions at multiple locations throughout the LoC.
Keran's new infiltration attempt on Friday morning came just five days after an army captain, two soldiers and a BSF agent lost their lives while foiling a similar intrusion into the area.
"The infiltration offer was quickly repelled by our alert troops. It led CFVs across Pakistan in multiple locations, from Keran to Uri. We gave an adequate response," said defense spokesman Colonel Rajesh Kalia.
Casualties on the Indian side included BSF deputy inspector Rakesh Doval and four army soldiers, while civilians were identified as Tahib Ahmad Mir from Sultan Daki, Irshad Ahmad and Afrar Ahmed from Kamlakote and Farooqi Begum from Balkote.
In Poonch, five civilians were injured when mortars fell on outposts. Similarly, two school-age girls were among the five civilians injured in the Pakistani bombings in Bandipora. All the injured were admitted to local primary health care centers, where their condition was said to be stable.
As previously reported by TOI, the total number of CFVs along the LdC stood at 971 in 2017 and 1,629 in 2018. The number jumped to 3,168 in 2019, registering major spikes first after the Balakot airstrikes and then the override. Article 370. and J&K Fork.
"Pakistan is upping the ante this year since India has been involved in the military showdown with China in Ladakh since early May. With the onset of winter, the Pakistani military is also trying to push as many terrorists and weapons as possible to J&K before the snow blocks the mountain passes, "said another official.
Clock J&K: Indian Army inflicts heavy losses on Pakistan in retaliation