Lockdown 5.0 Guidelines: What is open and since when in the phased MHA reopening plan? India News
NEW DELHI: The Ministry of Internal Affairs on Saturday issued new guidelines to gradually reopen the country as the fourth phase of the closure comes to an end on May 31. However, the closure will continue in the containment areas until June 30, where only essential activities will be allowed:
This is what will open and since when:

* *
Phase I: Religious places and places of worship for the public; hotels, restaurants and other hospitality services; and shopping centers; It will open from June 8, 2020.
* *
Phase II: Schools, colleges, educational / training / coaching institutions etc. they will open after consultation with states and UTs. Based on comments with all stakeholders, including parents, a decision will be made in July.
* *
Phase III: The resumption of international flights, metro services, movie theaters, gyms, swimming pools, amusement parks, etc. it will be decided based on the evaluation of the situation.
More about Covid-19
* Social / political / sports / entertainment / academic / cultural / religious / other important functions will be restarted only after assessing the situation.
* The interstate and intrastate movement of people and goods will be allowed from June 1 without permission or electronic pass. However, states will be empowered to regulate movement after prior disclosure of information and procedures to be followed.
* The night curfew will continue from June 1, but hours have been relaxed from 9 p.m. at 5 a.m. from 7 p.m. at 7 a.m.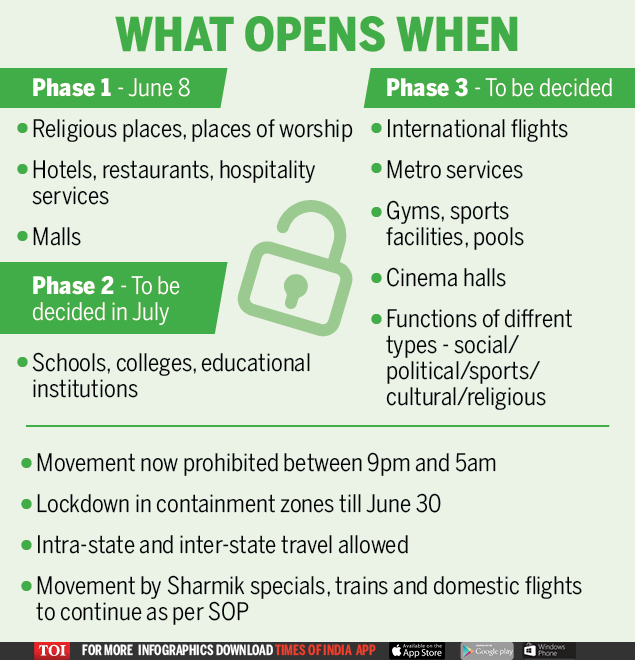 * The movement of domestic flights, special trains and Shramik trains will continue according to the SOPs issued.

* The closure will continue in force in the containment areas until June 30. District authorities will demarcate the containment zones after taking into account MHA guidelines.
* In containment areas, there will be stricter perimeter control to ensure that there is no movement of people within or outside these areas, except in the case of medical emergencies and to maintain the supply of essential goods and services.
* It is recommended that people over the age of 65, people with comorbidities, pregnant women, and children under the age of 10 stay home, except for essential and health purposes.