Hong Kong's autonomy from China disappeared: Pompeo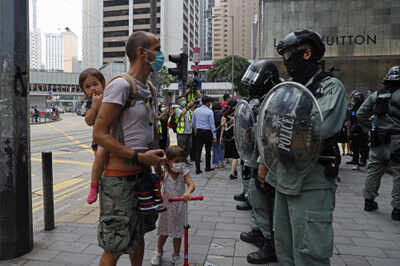 WASHINGTON: US Secretary of been Mike Pompeo said he had certified on Wednesday that Hong Kong no longer guarantees special treatment under US law. USA as it did when it was under British rule, a potentially big blow to its status as a major financial center. Pompeo's certification to the United States Congress follows China's announcement of a plan to impose new national security legislation in Hong Kong that has sparked further unrest in the territory, with police firing tear gas and water cannons.
It is now up to President Donald Trump to decide to end some, all, or none of the economic privileges of the United States that the territory now enjoys. Pompeo made no recommendations for follow-up action in his statement. But people familiar with the matter said on Wednesday that the Trump administration was considering suspending Hong Kong's preferential tariffs on exports to the United States as part of its response to China's plan.
Trump could also choose specific sanctions against Chinese officials, government entities and companies involved in applying the new legislation, according to one source, who spoke on condition of anonymity. Trump, already at odds with Beijing over the trade and the Covid-19 pandemic, had said Tuesday that Washington was working on a firm response. Any move by the Trump administration to reduce trade and economic relations with Hong Kong would be a severe blow to the territory. And it would be a harsh punishment for China, which depends on the prosperous city of ports and skyscrapers on the edge of the South China Sea as a link for transactions with other countries.
Pompeo said China's plan to impose the new legislation was "only the latest in a series of actions that fundamentally undermine Hong Kong's autonomy and freedoms." "No reasonable person today can claim that Hong Kong maintains a high degree of autonomy from China, given the facts on the ground," he said. He said he certified that Hong Kong no longer guarantees treatment under US law "in the same way that the United States laws applied to Hong Kong before July 1997," when Britain ended its administration of the territory and returned it to China. . "It is now clear that China is modeling Hong Kong by itself," he said.
The "Hong Kong Human Rights and Democracy The Act "passed by the United States Congress and Trump last year requires the state department to certify at least annually that Hong Kong retains sufficient autonomy to justify favorable US trade terms.