India China News: India looks ready for long standoff with China, can't stop border infrastructure work | India News
NEW DELHI: As Indian and Chinese troops remain locked in separate positions at various points in Ladakh, there is a determination at higher levels of government that India will not stop its border development activities. While reinforcements in men and material rush to forward positions where soldiers on both sides have launched tents and dug, it appears that India is also poised for a long standoff.
Diplomatic contacts and military contacts at ground level continue, but there is no resolution to date. The Indian government made its only statement by putting responsibility for the confrontation directly at the door of the Chinese system, but kept it to the spokesman for the Foreign Ministry, which is the level to which the Chinese are responding.
On Sunday, Chinese Foreign Minister Wang Yi did not mention India even once during his long annual press conference in Beijing. In New Delhi, no comments have been received from the political leadership. Given that the Chinese National Peoples Congress started in Beijing starting on Friday, there is unlikely to be a meaningful dialogue between the two sides until this is over.
On land, the showdown in Galwan is connected to Indian construction activities, including building a highway from Dharchuk through Shyok to Daulat Beg Oldie, which is now a renovated advanced landing field (ALG), literally the runway highest landing gear in the world, where India can land C-130 J aircraft, boosting its strategic air transport capacity. It is this road that gives India access to the Karakoram highway, it is what the Chinese oppose. The trail was completed in 2019.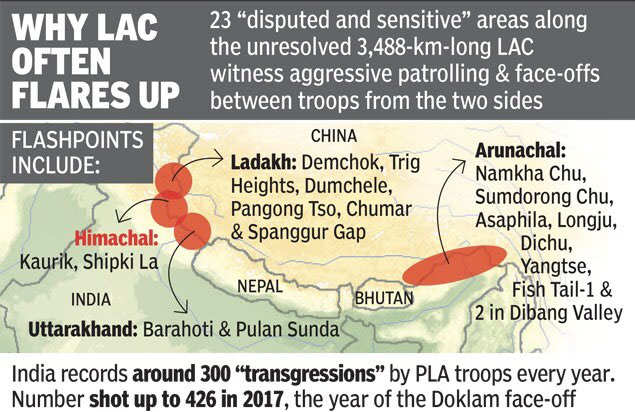 Indian security sources say India should be prepared for further turmoil with China on the border. This is because, as a "second engine," India is catching up on China's impressive border development work. In the past four years, India has trodden the gas on border roads and airstrips throughout LAC. That is taking Indian troops directly to LAC faster and easier than ever before, allowing India to more frequently challenge the aggressive Chinese border patrol. Reflecting their deployment and behavior, there has sometimes been Indian aggressiveness in response. This inevitably leads to more fighting.
The current crisis, which erupted in the first week of May, initially seemed like the normal fight in early summer in LAC, where both sides try to patrol their respective perceptions of LAC, which has well-documented dispute points. For India, the Galwan intrusion was new, but they are equally concerned about the Chinese intrusions on the north bank of the Pangong Tso. China was unpleasantly surprised by the punches between officers at a point in Sikkim on May 9.
The crisis is as much as unlike Doklam. This is happening on family territory, which periodically sees skirmishes, unlike Doklam who was on Bhutanese territory. However, like Doklam, here too, verbal aggression comes from Beijing, both through its foreign ministry and through its official media such as the Global Times. New Delhi, as in 2017, has been silent. This, according to sources, will continue.