Cyclone Amphan news: 72 killed in Amphan march through Bengal, PM Modi to visit today | India News
CALCUTTA / BHUBANESWAR: As Cyclone Amphan vanished in Bangladesh after a final assault, West Bengal stayed on Thursday counting their deaths, from 12 to 72 overnight, including 15 in Kolkata, and running through the rubble of devastation that CM Mamata Banerjee said would require days to evaluate and massive central financial assistance to save and rebuild.
Many of the victims during the cyclone's nine-hour march through seven southern Bengal districts on Wednesday were caused by electrocution or house collapse.
Kolkata woke up to the macabre sight of 11 bodies floating through flooded streets. South 24-Parganas, who suffered the impact of the Amphan impact, reported 12 deaths. Hundreds of houses were destroyed and embankments were broken in many places, leaving dozens of villages swimming in misery. Rivers invaded farmland along the Sunderbans, damaging acres and acres of standing crops. The damage, which is still being assessed, is believed to be more extensive than what Cyclone Aila had caused 11 years ago.
North 24-Parganas accounted for 27 deaths. The roads were submerged and trees blocked the roads, including the NH-35, restricting the movement of first responders on their way to the affected areas. It is possible that more than 88,000 hectares of rice and one lakh of hectares of sesame and vegetable crops have been lost across the state, authorities said.
"There will be no stone left unturned to help those affected. Senior officials closely monitor the situation and work closely with the Bengal government, "Prime Minister Modi tweeted even as the state government created a Rs 1 billion fund to repair damaged embankments and houses and restore water supplies. to the affected areas.
NDRF teams are working on the parts affected by the cyclone. Senior officials closely monitor the situation and also … https://t.co/hkeg2SAPx3

– Narendra Modi (@narendramodi) 1590049237000
Mamata announced a compensation of Rs 2 lakh each to the relatives of the deceased.
Later, the PMO announced that Modi would visit Bengal and Odisha on Friday to take stock and discuss relief and rehabilitation measures with CMs from both states. The PM is scheduled to arrive in Kolkata at 10.45 a.m. and will embark on an aerial reconnaissance along with Mamata. They are scheduled to hold a meeting before Modi flies to Bhubaneswar in the afternoon.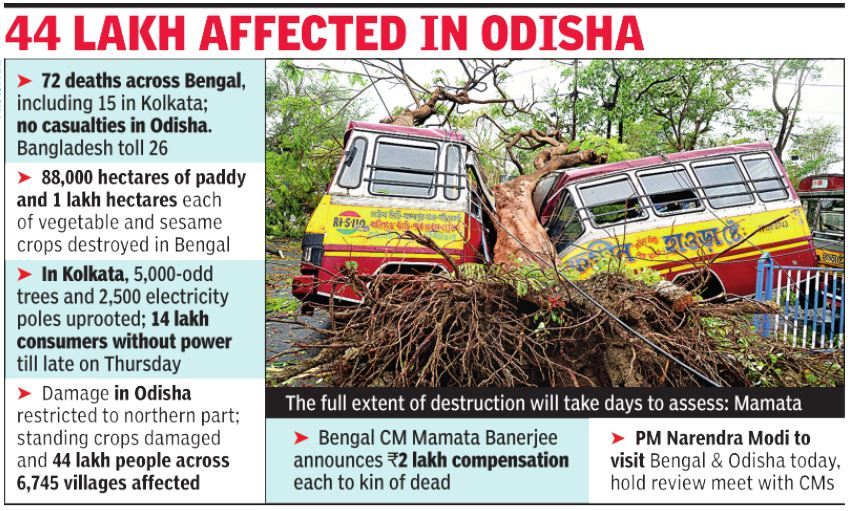 While briefing Union Interior Minister Amit Shah about the situation during their second conversation in as many days, Mamata sought immediate help from the Center's disaster relief fund. "I told him (Shah) that we need the money right away … I can't wait 500 days. I hope he responds. But I can't be sure until help arrives, "she said.
The CM said restoring communication and power (many neighborhoods in Kolkata and North-South 24-Parganas had no electricity or internet until Thursday night) was the immediate priority. "We are waiting for the sky to clear. Roads are blocked by uprooted trees and there is no electricity in many areas. "
Mamata said she was still shocked to think of the "terrifying" experience of seeing the cyclone's fury from the 14th floor of Nabanna, the secretary of state. "When I went up to my room on the 14th floor, I thought I was shaking. Several glass windows were broken, "he said, adding that the disaster could not have come at a worse time for Bengal. "We also have to deal with the pandemic, the problems of migrant workers and the rising cost of quarantining people."
A part of the patrimony was also lost. The slender spire of 205-year-old St. Andrew's Church in Kolkata, an institution that has survived two world wars, the Partition and several cyclones, lost its 100kg black rooster due to Amphan's fury.