FALSE ALERT: Photo of shared Covid-19 test kits as your vaccine
CLAIM
The WhatsApp instant messaging platform is filled with a message claiming that the US-based "Roche medical company" (Roche Diagnostics) has finally prepared a coronavirus vaccine.
By sharing a photo of bags with Covid-19 IgM / IgG written on them, WhatsApp users share a message that says: "Good news for the world. Good news! Coronavirus vaccine ready. Able to heal the patient. Congratulations to the American scientist. At this time, Trump announced that Roche's medical company will launch the vaccine next Sunday and millions of doses are ready! (sic)"
Times Fact Check received the message from several readers in their WhatsApp number. These readers wanted to know if the message was authentic.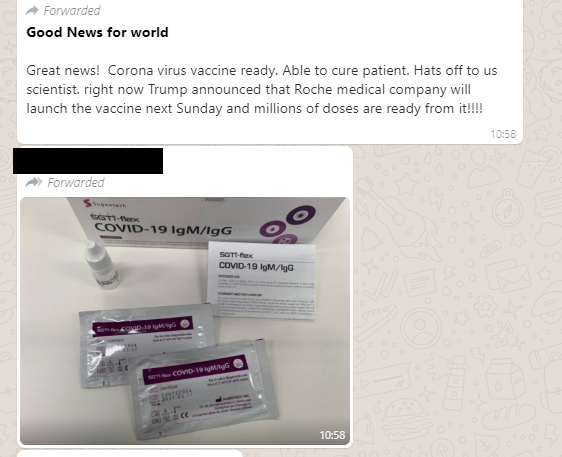 TRUTH
Covid-19 IgM / IgG is a test kit and not a vaccine. The kit has nothing to do with Roche Diagnostics. It is manufactured by Sugentech. There is no vaccine for coronavirus yet.
VERIFICATION AND METHODOLOGY
Using "Covid-19 IgM / IgG" as a keyword, we found a news
report dated March 17, 2020, from The Guardian about this Covid-19 test kit.
Looking closely at the shared photo, we found that it bore the logo of a South Korean brand called "Sugentech."
Looking at the Sugentech products section on its official website, we found that it had a product
list Covid-19 IgM / IgG.
Sugentech described the kit as a kit for qualitative testing of the COVID-19 antibody by immunochromatography.
"SGTi-flex COVID-19 IgM / IgG is an immunochromatographic test kit based on gold nanoparticles for the qualitative determination of IgM and IgG antibodies to COVID-19 in human whole blood (venipuncture or serum puncture)" , says the description of the product.

"Since there are no drugs or vaccines, the best way to fight this infection is isolation," the page clearly said.
Last week, life science giant Roche
thrown out A clinical trial of Covid-19 Actemra pneumonia is hopeful after the drug was endorsed by China.
There are no FDA-approved drugs, vaccines or therapies yet to treat Covid-19.
VERDICT

Times Fact Check found that a photo of the Covid-19 test kit is being distributed on WhatsApp with a false claim that American scientists and the life science company Roche have found a vaccine that cures the coronavirus.