Railways suspends all passenger services from March 22 until midnight on March 31 | India News
NEW DELHI: Railways announced on Sunday the suspension of all its passenger services from March 22 at midnight to March 31 in the wake of the coronavirus threat.
The railways had already reduced their services on Friday by canceling most of the trains. However, he had allowed all trains that had already started the journey to continue.
Under a new order issued by the railways, to ensure essential supplies in various parts of the country, the movement of freight trains will continue.
"The minimum suburban services and the Kolkata metro rail service will continue until midnight on March 22. Later, these services will also stop until March 31," he added.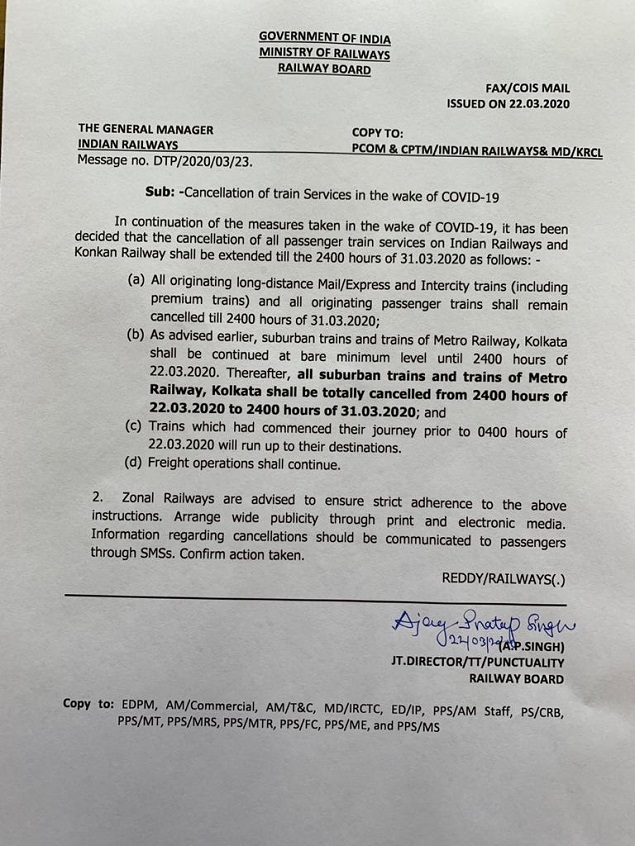 The government said that trains that had already started their journey will arrive at their destinations.
The railways also announced that for the convenience of passengers, full reimbursement of all canceled trains may be taken until June 6, 2020. "Appropriate steps will be taken to facilitate smooth reimbursement for passengers affected by the train cancellations ". said.
The railways had decided to cancel all passenger trains on Sunday in support of Prime Minister Narendra Modi's so-called 'Janta Curfew' to curb the spread of the coronavirus.