FACT VERIFICATION: Photo of Syria shared as one of Delhi's violence; this child is not the son of the IB officer Ankit Sharma
CLAIM 1

Several Twitter users share a photo of a woman hugging and comforting three children with the suggestion that she is from Delhi, where violence between Hindus and Muslims recently broke out.
These Twitter users used this photo to attack Prime Minister Narendra Modi.
The photo is being tweeted with a title that says: "This will continue to be my permanent memory of what Narendra Modi has done to my country."
This will remain my permanent memory of what Butcher @narendramodi has done to my country … # DelhiRiots2020 … https://t.co/04JRRzNeVT

– Rajeev Jain @gallerygrandeur (@ RajeevJ37171644) 1582951596000
TRUTH
The photo is from the Syrian conflict and was taken on May 14, 2014. It has nothing to do with the violence of Delhi.
VERIFICATION AND METHODOLOGY
Using the reverse image search feature in Google, we found the
original image Posted by Getty Images The photo is credited to ZEIN AL-RIFAI / AFP through Getty Images.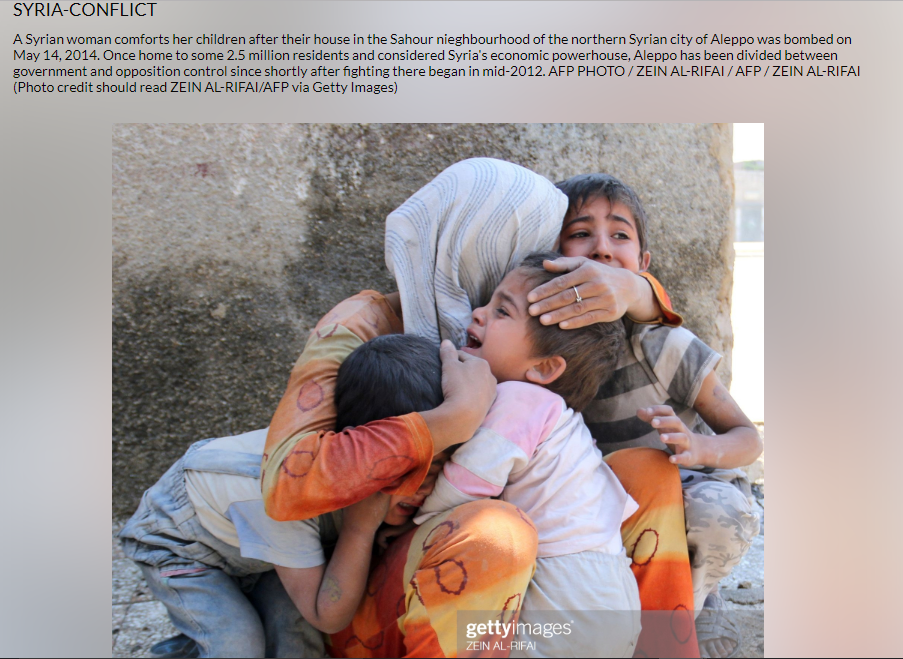 "A Syrian woman comforts her children after her house in the Sahour neighborhood in the city of Aleppo in northern Syria was bombed on May 14, 2014. Once home to some 2.5 million residents and considered the economic power of Syria, Aleppo has been divided between the government and the opposition. Control since shortly after the fighting began in mid-2012, "reads the caption that Getty Images gave the photo .
VERDICT
Times Fact Check discovered that a photo of Syria is being shared insinuating that the photo was clicked after the violence that erupted in Delhi last week. The claim is therefore false.
CLAIM 2
A photo showing a child sobbing, looking at a body in front of him, is shared with a statement that the child is the son of the Intelligence Office officer, Ankit Sharma, who was killed in Delhi during the violence.
A translation of the text in Hindi given to the photo says: "Why would the mind and heart of this child, whose father have been stabbed more than 400 times, have passed? My blood boils upon seeing this," along with # AnkitSharma.
@khanumarfa @thewire_in इस मासूम से बेटे पर क्या बीती होगी जिसके पिता के शरीर पर 400 ज्यादा चाकुओं के निशान हैं ह… https://t.co/uKm84wGRJK

– मयूर चौबे (@MayoorBhartiya) 1582941547000
TRUTH

The child is not related to Sharma in any way. It is related to Muddasir Khan, who was killed during the violence and this photo was captured at his funeral.
VERIFICATION AND METHODOLOGY
Using the reverse image search, we find the
Original photo led by Reuters news agency.

Accredited to Adnan Abidi, the photo published on February 27, 2020 is captioned 'People mourn next to the body of Muddasir Khan, who was wounded Tuesday in a clash between people demonstrating for and against a new law of citizenship, after he succumbed to his wounded, in an area affected by riots in New Delhi. '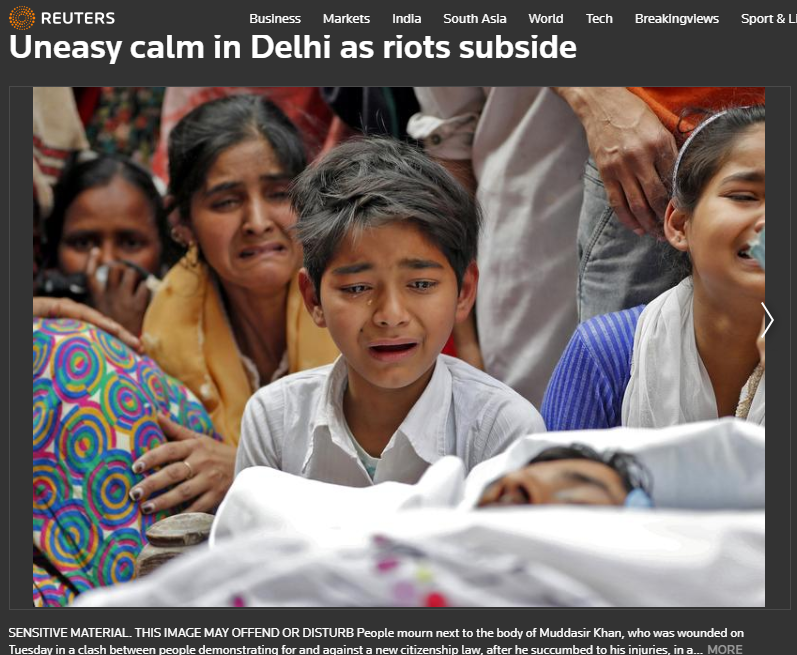 The boy is Khan's nephew.
Sharma was reportedly single.
VERDICT

Times Fact Check discovered that a photo that was clicked during the funeral services of Mudassir Khan, who was killed during the violence in Delhi, is shared with a statement that the child seen in the photo is murdered son of the IB agent Ankit Sharma