India starts looking for alternatives to China to get more than a thousand items
From textile fabrics, refrigerators and suitcases to antibiotics such as amoxicillin, erythromycin and metronidazole, vitamins and insecticides, the government has begun a search for 1,050 items worldwide as supplies from China, which account for more than 50% of imports from India . hit by coronavirus.
Also on the list are automatic data processing machines, diodes and semiconductor devices, auto parts and various articles of steel and aluminum and mobile phones.
The commerce department, which has already conducted at least one round of detailed consultations, has sent letters to Indian missions around the world to identify potential suppliers. A detailed analysis of possible replacement markets was conducted and shared with other foreign ministries and missions, sources told TOI.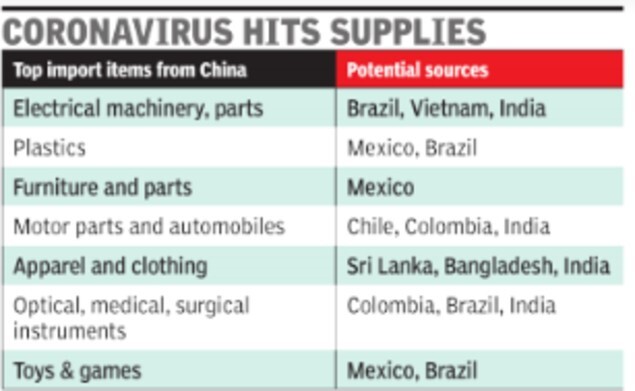 In the case of antibiotics, for example, Switzerland and Italy were identified as potential sources since they are among the main exporting countries along with China.
While there has been a positive response from some of the countries, finding alternative sources for the supply of electronic products and mobile phones and their tickets is proving a difficult task given the complete dominance that China has in the sector.
In addition, other countries would also be pursuing the same sources to close the gap due to a collapse in the supply chain.
The Minister of Commerce and Industry, Piyush Goyal, will conduct detailed consultations next week to move forward with the strategy and also look for measures to boost local production whenever possible.
A key theme of the minister's discussions with government agencies and industry representatives will be to implement a plan to boost the export of 500-550 items where India has the potential to fill the gap created by China.
A preliminary analysis after detailed discussions by the department of commerce showed that the situation is particularly bleak in the case of pharmaceutical and chemical products, smart phones, electronic products and household appliances and plastics, where India depends on China for most of its imports
In addition, there are sectors such as textile thread, certain organic chemicals and gems and jewels, which are seeing an adverse impact on exports since China and Hong Kong are the main buyers. But commercial agencies have told the department of commerce that the coronavirus, which now threatens to be a pandemic, is generating greater interest in the demand for leather, ceramic and agricultural products.
Sources said the pharmaceutical industry expects the interruption of the supply of 16 molecules, which include antibiotics such as chloramphenicol, erythromycin, azithromycin, clarithromycin, amoxicillin, vitamins A, B, C and E, and hormones such as progesterone. It may not only affect national drug production, but also exports. But the estimate was that areas beyond the 500 km of Wuhan could start producing sometime in March, although Wuhan could see a normal return in April. Industry lobbyists have sought incentives for pharmaceutical SMEs as a short-term measure, in addition to suggesting that the government restart plants that have been closed.