Feel at home with the Malaysia Airlines executive class: get up to 35% off fares
Malaysia Airlines, which has redefined the flight experience worldwide, now offers its customers the opportunity to enjoy their incredible Business class with up to 35% discount on fares to all destinations such as Kuala Lumpur, Melbourne, Bali and Sydney . Until March 2, 2020, this special promotion is valid for immediate trips until January 31, 2021. The Malaysian Executive class offers an unmatched premium experience with exclusive priority check-in counters, priority luggage and access to the elegant Golden Lounges KLIA. for the convenience of the board at any time.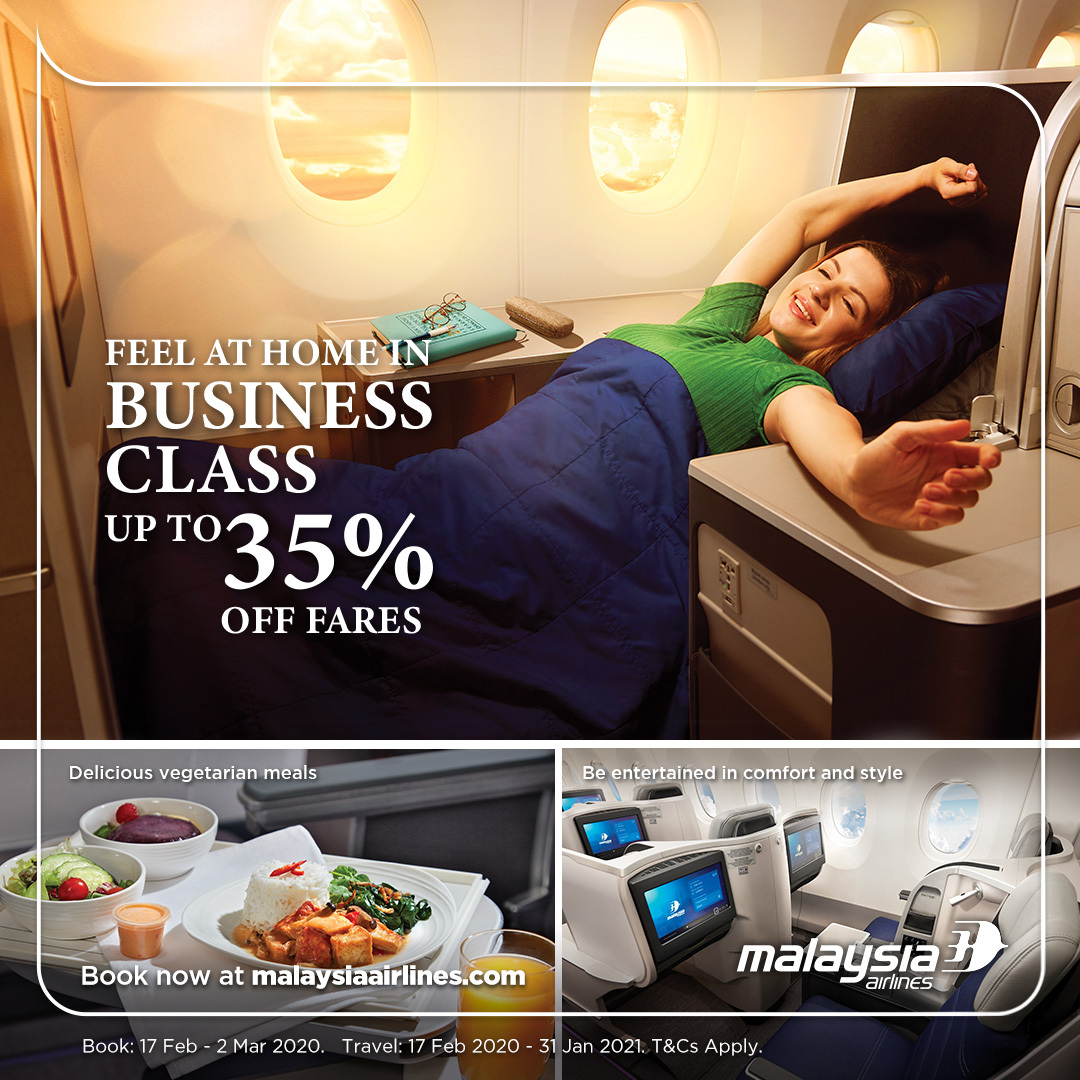 The best of services
With the comfort of passengers in mind, the Business class completes the premium experience with ample reclining seats *, along with an excellent dining experience with gourmet cuisine available upon request through our "Chef On Call" service. The airline also offers a wide variety of on-board entertainment equipped with noise canceling headphones that guarantee the most enjoyable flight experience on Malaysia Airlines.
A great opportunity to experience Malaysian hospitality to the fullest
According to the Director of Marketing and Customer Experience of Malaysia Airlines Group, Lau Yin May,
"This offer reaffirms our firm commitment to provide our passengers with maximum value for their trips to all destinations, along with our Malaysian hospitality throughout their trip with us. Passengers who choose to fly Malaysia in executive class will experience premium services on land and on board, including access to our KLIA gold lounges, where they can enjoy a moment of peace and quiet before boarding their flights. Whether for business or pleasure, you can always expect the best service from us. On board, our guests will be pampered with excellent dining options, along with ample and comfortable seating, which will make them feel at home at 30,000 feet. In time for Visit Malaysia 2020, this special promotion adds another reason for travelers to visit our paradise, enjoying our pristine beaches, fascinating wildlife, breathtaking nature and our many historical attractions throughout the country. "
Do you want to experience the best luxury at 30,000 feet? Choose to fly in business class with malaysiaairlines.com and book your next vacation in Malaysia! To make sure you never miss out on great deals like these, as well as the many exciting and exclusive promotions, download the Malaysia Airlines app today.
Click here to know more.
Disclaimer: This article has been produced on behalf of Malaysia Airlines by the Times Internet Spotlight team