There are no provisions for relief of disturbance-related deaths: Yogi Adityanath | India News
LUCKNOW: Uttar Pradesh Prime Minister Yogi Adityanath presented in a written response at the state assembly on Tuesday that the state government has no provision to compensate the families of people who die in "disturbance-related incidents."
According to Yogi's presentation, 21 people died in "disturbance-related incidents" in the last six months. He said 400 protesters were injured by protesters while 61 policemen were shot.
At least 21 people died in acts of violence during the protests against the CAA in UP on December 19 and 20. The UP government said that none of them died from police bullets. Referring to these incidents of violence in his speech at the assembly last week, the CM said that "the protesters were killed by the protesters."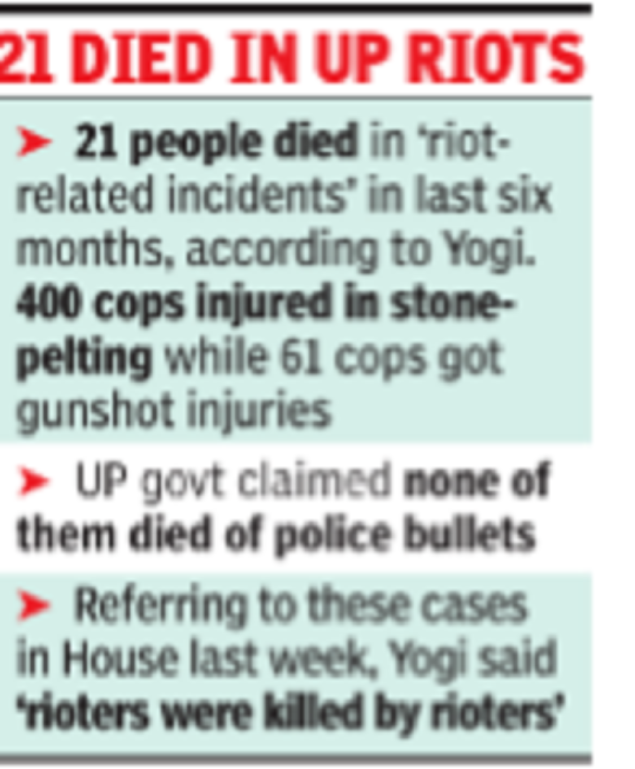 On Tuesday, the CM was responding to an inquiry from SP MLA Rakesh Pratap Singh, who requested the death toll of people who died in disturbance-related incidents in the last six months and whether the state government would take any action to compensate Victim families.
Yogi's statement came at a time when the opposition has been criticizing his government about the status of the law and the order and handling of protests against the CAA. Yogi had previously ordered the issuance of recovery notices to protesters who damaged public property during the violence. The CM also claimed that the crime against women increased between 2017 and 2018, but these cases were reduced in 2019. In a written response to SP MLA Ujjwal Raman Singh, the CM said 51,582 cases of crimes against women were recorded in 2017. This figure increased to 53,608 in 2018 but fell to 49,867 in 2019.