The wave of Samsung Galaxy M31 MegaMonster arrives at BTown: Parineeti Chopra starts up on the MEGA road
If there is one thing that Parineeti Chopra does not shy away from on social media, it is his passion for travel. She goes to such exotic places and shares such dreamy photos that even the biggest loafers are inspired to work hard and earn money so they can go on vacation like this. Sitting in a hammock right in the ocean, having breakfast with friends in front of a seaplane and feeling super nerd in front of Oxford, the lively diva makes the exploration so much fun that we are stuck in your Instagram timeline for hours.
And we assume that even Samsung did. That's why, as soon as they were ready to launch their new mega phone monster, the Samsung Galaxy M31, they sent one as a gift to Parineeti! Well, it all makes sense: Parineeti is the best travel queen and the smartphone has the G.O.A.T of a camera: a 64MP elephant that can be the best companion and much more for all the social networking needs of Parineeti.
Without a doubt, Parineeti was very surprised by this gesture and decided to go on a trip of her life, to a place she had always wanted to go.
Where nobody knows! But we can guess. The diva has already begun to give clues about her trip: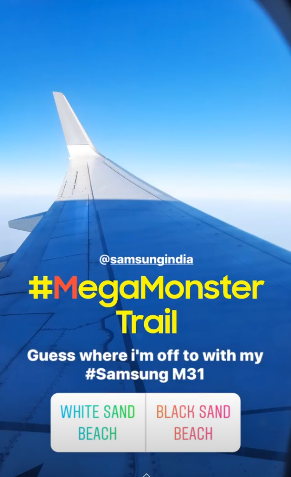 However, it would not be a child's game: you will have to scan their social networks and squeeze your brain. She will share some stunning photos with the 64 megapixel mega camera of her Samsung Galaxy M31 and these photos will give us clues about where she will be staying. We can make our guesses and 5 lucky ones who will guess their destination correctly, have the opportunity to win the new Samsung phone.
Well, it's not only Parineeti's exciting journey that has our curiosity, but also the monstrous specifications of the phone he's taking as a companion. The MegaMonster, as we call it, can take MegaSnaps with its 64 megapixel quad camera and its 32 megapixel selfies camera, allows MegaBinge with FHD + sAMOLED Infinity U screen, and turns it into MegaVacays with an unparalleled 6000 mAh battery That lasts forever and one day!
It is scheduled to be released on
February 25, 2020 at 1 PM in
Amazon and
Samsung online store and leading retail stores in what we hear at a very competitive price. Until then, we have our days busy following Parineeti's amazing tracks to guess his destiny and win the MegaMonster. Will you be one of the 5 lucky winners? Well, put on your riddle hat and stay tuned.
Disclaimer: This is a brand publication and has been written by the Times Internet support team.