It's raining deals at the GREAT TIMES PROPERTY FESTIVAL
With the Times Group ongoing property festival, there is no better time to invest in your dream home than now!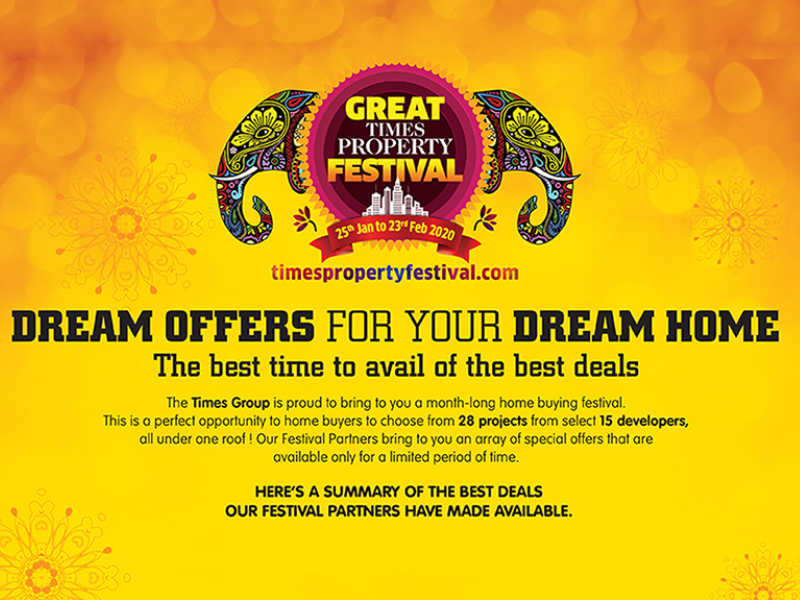 The current one-month festival of Times Group that will run until February 23, 2020 is for those looking to buy a house. With interest rates on mortgage loans at their lowest point and government initiatives like PMAY in the spotlight, it's the right time to invest in a property. GreatTimesPropertyFestival.com, the first initiative of its kind from the Times Group, serves as a perfect one-stop shop for the buyer to compare and choose the home of their dreams. It facilitates the exploration of the market in search of the appropriate treatment and aims to adapt to the buyer's budget and lifestyle aspirations. What is unique and special about the one-month home purchase initiative is that it offends real estate projects from renowned developers on a single platform, where each developer has made available special offers available only for a limited period of time and Times Group He has launched a campaign in print, radio, OOH and digital media to reach potential demanding home buyers, on the one hand, and provide miles to developers and their projects, on the other.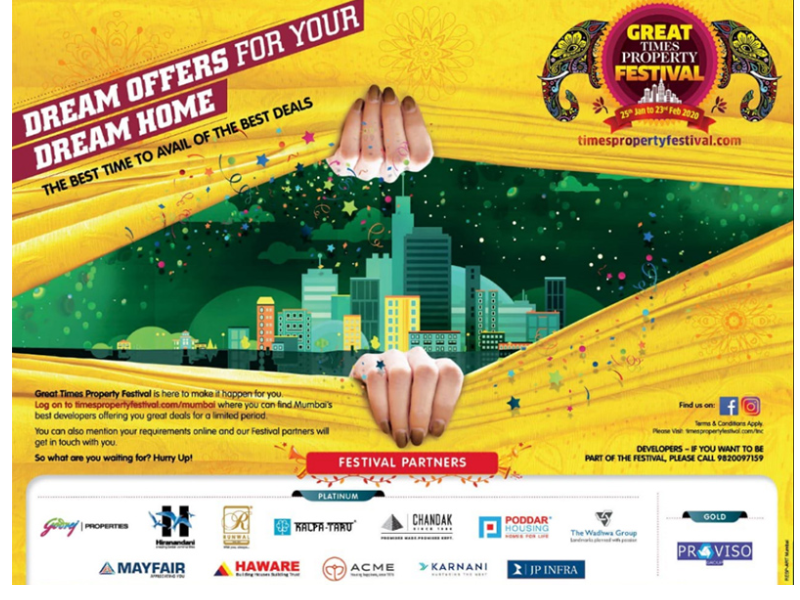 GreatTimesPropertyFestival.com has more than 80 leading developers with inventory in more than 180 projects for 8 key cities. It offers exciting and limited period offers that one cannot miss. The festival covers projects that exist in 8 major cities in India, that is, Mumbai, Delhi, Gurgaon, Bangalore, Chennai, Pune, Ahmedabad and Baroda.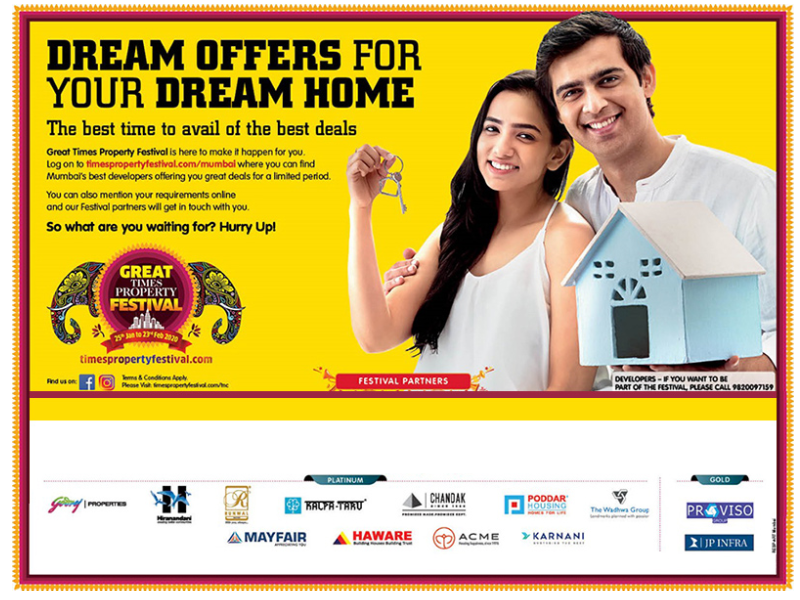 To visit Timespropertyfestival.com to see these projects with excellent offers for a limited time within the city of your choice, now! The website has a lot of information and covers photos, videos, floor plans, services and special offers available for each project.
The key developers who have joined as partners with special offer projects are:
Mumbai – Godrej Properties, Hiranandani Constructions, Runwal Group, Kalpataru, Chandak Group, Poddar Housing, The Wadhwa Group, Mayfair, ACME Group, Haware, Karnani, Sanghvi S3 group, Proviso Group, JP Infra, Satyam Developers
Delhi – Paramount, Unity Group, Laureate, Civitech, Paras Buildtech, Purvanchal Royal City, Aditya Builders and Developers, Mapsko, Wave One, Mezzaria, Sikka Kaamna Greens, Mahagun
Bangalore – Godrej Properties, Nambiar Builders, Total Environment, Sobha, SNN builders, Northern Star, Pioneer Developers, Shriram Properties, VBHC, Sterling, Kolte Patil, Zuari Garden City, Goyal & Co., Hariyana Group, Provident, Pratham, Navami Landmark, Ozone Group, Mahaveer, NVT, Vaishnavi Group,
Banking partners – SBI, Karur Vysya Bank
Chennai – CasaGrand, Jones Blazia Landmark Living, Radiance Realty, NOVA, Alliance, Jain Housing & Constructions, SPR city
Banking partners – SBI, Karur Vysya Bank
Pune – Godrej Properties, Amanora, Fortune Group, Parajape, Pristine, SKYi, Vertical infra, XRBIA, Pride Purple, Gokhale Constructions, VTP Realty, Aishwaryam Group, Pride
Ahmedabad – Saanvi Nirman, Deep Group of Companies, Shaligram Prime, Venus Lifespace Creators, Prarambh Buildcon, Devpriya, Cloud9 Infraspace LLP, Suryam Group, Aarush Group,
Baroda – Developers of Vihav, Riverway NX, Samruddi Group, Raama Group, Courtyard Group, Neptune Realty, Amar Group, SPA Creators of Sherwoods, Samanway Realty, Shivam Builders, Shree Balaji Group.
Jaipur – Vardhman Group, Trimurty, Arihant, Chordia's, Unique Dream Builders, Shubashish builders, Mangalam, Okay Plus Builders & developers.
Enter timespropertyfestival.com and see for yourself!
Disclaimer: This article has been produced on behalf of the Great Times Property Festival by the Mediawire team.