Coimbatore KSRTC bus accident: Bengaluru-Kochi KSRTC bus accident kills at least 19 | Coimbatore News
COIMBATORE: About 19 people were killed and 25 others injured when a high-speed container truck rammed a bus from the Kerala Road Transport Corporation (KSRTC) near Coimbatore in Tamil Nadu in the early hours of Thursday. The deceased included the bus driver and five women.
Police said the bus was heading to Ernakulam from Bangalore. There were 48 passengers on the bus. The accident occurred in t Thirumuruganpoondi (Tirupur district) at the Avinashi-Salem turnoff around 3.25 am.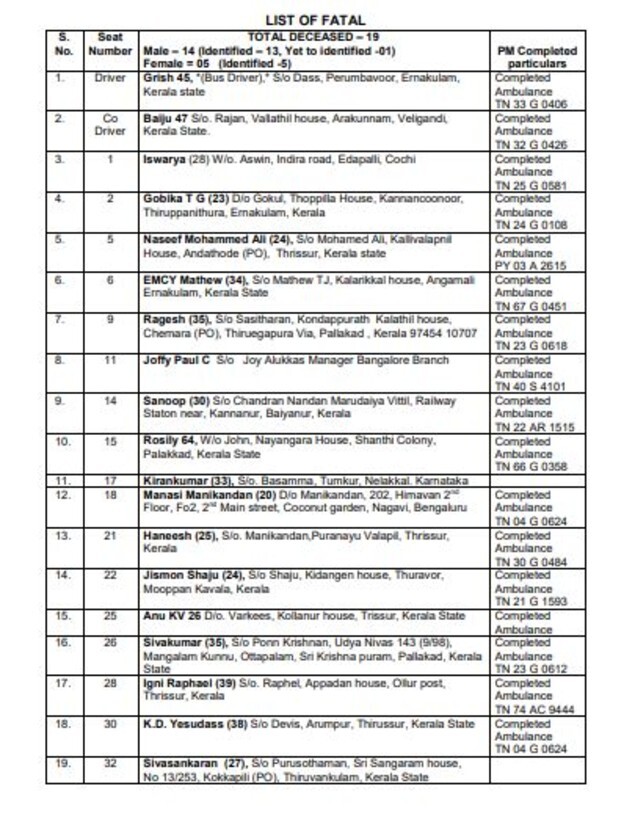 Police said the container truck, loaded with tiles, was heading towards Bengaluru from Kochi.

They said the truck driver could have slept on the wheels for a few seconds and lost control of the vehicle. The truck reached the median, entered the other side of the road and rammed the bus. Later, Tirupur police arrested truck driver Hemaraj.
P Jordin Xavier, 38, of Nemmara in the Palakkad district, who was riding the bus, told TOI: "I was sound asleep when the accident happened. I couldn't tell exactly what happened. My wife and I escaped with injuries. mild. " God saved us. "
Jordin had gone to Bangalore with his wife. She wrote an exam there on Wednesday for a job in Saudi Arabia. They returned home on the bus.
Siddhu Malawad, 44, of Bangalore, who was traveling to Ernakulam, said: "I was in a deep sleep and heard a collision noise. I saw passengers lying dead on the bus. Many people were found unconscious. Some people broke their glasses. on the side of the bus and rescued injured people. "
Kerala police asked relatives of the deceased to contact Palakkad SP G Sivavikram for more help. They also published contact numbers: 9497962891, 9497990090, 9497996977.

The governor of Tamil Nadu, Banwarilal Purohit, and the chief minister, Edappadi K Palaniswami, condemned the death of 19 people in the accident.
"I convey my deepest condolences to the bereaved family members. I pray to God to rest in peace to the deceased souls and to give strength to their families to overcome this unfathomable loss. I also pray to God for the speedy recovery of all the wounded, "Purohit said in a statement.
Palaniswami read a statement in the assembly that condoned death. The prime minister also condemned the death of six Nepalese in another traffic accident. Six pilgrims from Nepal, including two women, died and another 25 were injured when a bus rammed a minibus near Omalur in the Salem district in the early hours of Thursday.