Nirbhaya case update: the four convicted must be executed together, not separately, says HC | India News
NEW DELHI: The Delhi High Court said Wednesday that the four convicted in the case of rape and group murder of Nirbhaya should be executed together, not separately.
The HC also gave the four convicted a week to resort to all the legal resources available to them. After a week, the proceedings against them will be initiated for the execution of the death sentence, the HC said.
The Center and the government of Delhi challenged the order of the court of first instance on January 31 to suspend "until further orders" the execution of the four convicted in the case: Mukesh Kumar Singh (32), Pawan Gupta (25), Vinay Kumar Sharma (26) and Akshay Kumar (31), who are staying in Tihar prison.
On January 7, the trial court issued black arrest warrants for the execution of the four convicts in Tihar prison at 7 am on January 22. However, they could not be hanged due to the request for penance of mercy of one of them.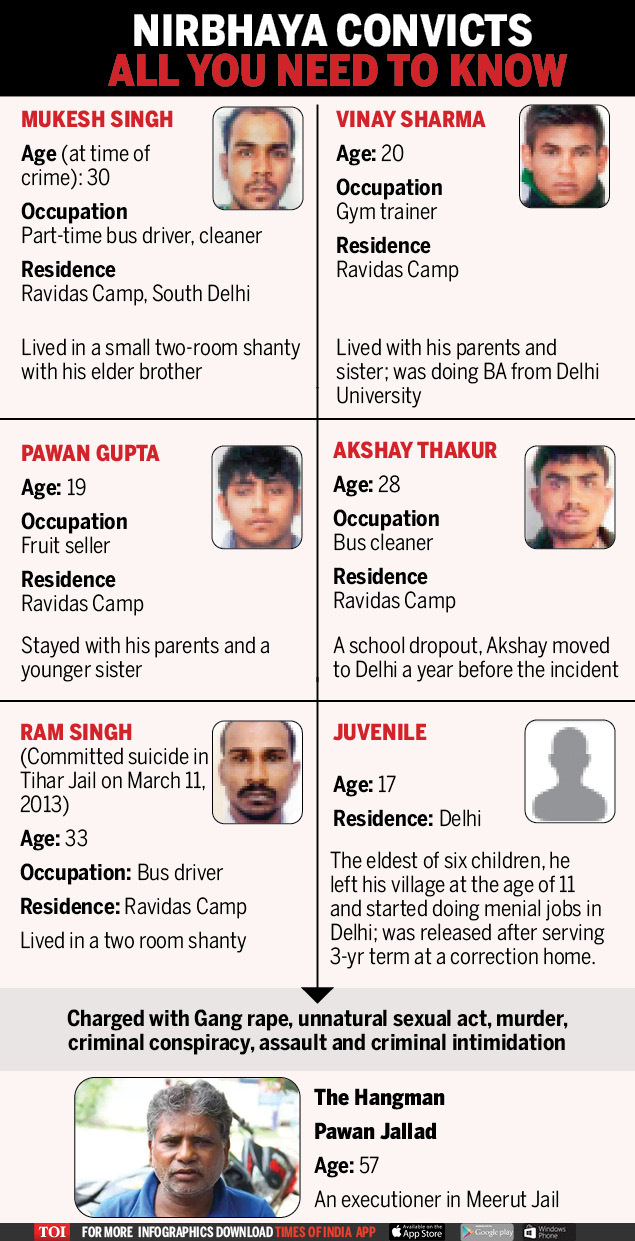 Later, on January 17, the trial court set February 1 at 6 a.m. as the date and time of suspension.
On January 31, the trial court again suspended the execution since the lawyer of three convicts, Pawan, Vinay and Akshay, urged him to suspend the sine die case, saying that his legal remedies had not yet been exhausted.
While Mukesh and Vinay's pleas for mercy have been rejected by the President, Pawan has not yet submitted it. Akshay's clemency statement was filed on February 1 and is pending.
The center and the government of Delhi approached the higher court on February 1, challenging the order of the trial court to suspend the execution.

Attorney General Tushar Mehta, on their behalf, had argued that it was a deliberate and calculated design of the convicts "to frustrate the mandate of the law" by delaying their execution and they had no right to any longer.
The convicted lawyer opposed the allegation saying that it was not maintainable and that the Center was never a party to the proceedings of the case before the trial court, and although the government accused the convicted of delay, he has woken up only now.
Nirbhaya, a 23-year-old paramedic student, was raped and brutally assaulted on the night of December 16-17, 2012 inside a moving bus in southern Delhi by six people, before being expelled from the road.
He died on December 29, 2012 at Mount Elizabeth Hospital in Singapore.
(With agency contributions)