Delhi elections: Why Congress, other parties pose bigger threat to AAP than BJP | India News
NEW DELHI: If Aam Aadmi Party has to replicate the success of 2015 assembly elections when it won 67 of the 70 seats, it faces a challenge
not from BJP
but from the Congress and other regional parties.
Since Aam Aadmi Party's entry into politics in 2013, when it won 28 seats by securing 29.5% of the votes in the assembly polls, there have been four elections in the national capital — 2014 Lok Sabha, 2015 assembly, 2017 MCD elections and 2019 Lok Sabha.
How AAP won 2015 assembly polls
In 2013, India Against Corruption propelled Arvind Kejriwal into politics and forced the exit of the Congress from Delhi where it had been in power for the last 15 years.
However, no party was able to score a decisive mandate and the vote remained split between the BJP, AAP, the Congress and other smaller regional parties and independent candidates. AAP formed a government in Delhi with outside support from the Congress.
Within 49 days, Arvind Kejriwal resigned and paved the way for presidential rule in Delhi. Two years later, assembly elections were held and
Aam Aadmi Party scored one of the most historic victories
in Indian politics.
The victory came at the expense of the vote share of Congress and other regional parties and independent candidates. While the vote share of Congress was reduced from 15.7% to 9.7%, the vote share of Others was reduced from 21.8% to 3.7%. The vote share of BJP remained more or less constant at 33%.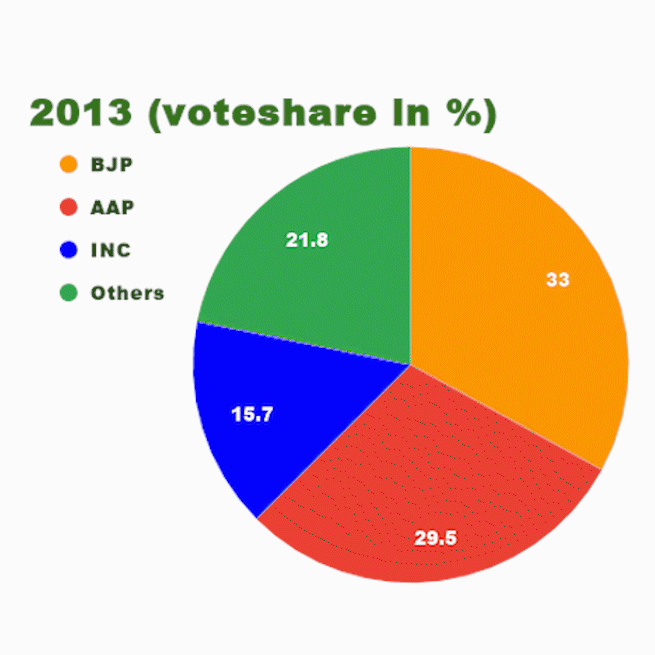 Exit polls and the mood on the street seems to indicate that AAP will sail through the upcoming assembly elections with ease. However, the question appears to be — How decisively can Arvind Kejriwal win Delhi?
AAP suffers setback in MCD polls
In 2017 MCD elections, BJP retained power by winning 181 of the 272 seats. Its vote share was approximately the same as in the previous two assembly elections — 37%.
Though AAP was making its debut in the MCD elections yet it was a major contender. However, it could win only 49 seats by securing 26% votes, a major fall from the 54.3% votes it had secured in the 2015 assembly elections.
A closer look at the vote share of all the participants reveals that AAP's dismal performance in MCD polls was not at the behest of the BJP but the Congress, other parties and independent candidates. Congress drastically improved its vote share from a dismal 9.7% in 2015 to a respectable 21% in the 2017 MCD polls as did others who increased their vote share from 3.7% in 2015 to 16%.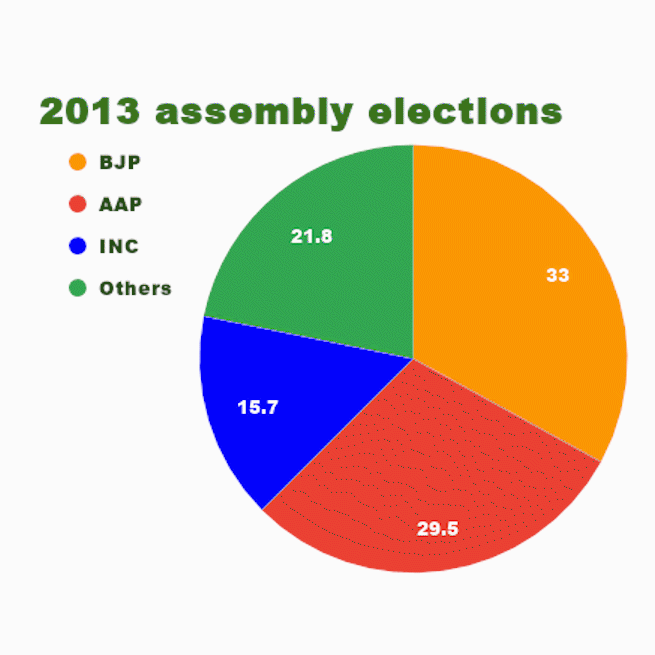 Congress' vote share improving
Further analysis of the two Lok Sabha polls (2014 and 2019) shows that the Congress' support in the capital has improved, though only marginally. If Congress is able to revive its support even slightly in upcoming assembly polls, it could have an impact on AAP's share of the vote.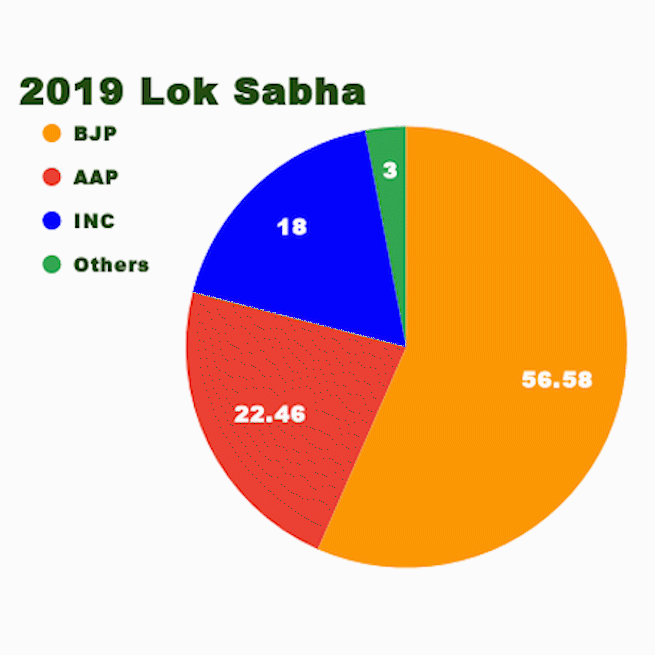 Regional parties & indepenents can play spoilsport for AAP
The Bahujan Samaj Party lost on all 70 seats it contested in 2015. Despite its dismal performance, the party has fielded candidates on all assembly seats for the upcoming polls. Ideologically, both the BSP and AAP target the same vote group. Though BSP's chance of winning a seat is bleak, they are more likely to eat into AAP's share of the vote.
Since 2013, while the BJP has been able to cling to vote share, the other political parties have struggled to keep their supporters intact. If Congress continues its upward trajectory and the other regional parties are able to attract the disgruntled voters then it will impact AAP's chances of decisive victory in Delhi.