MS Dhoni is fit and Indian team needs him: Suresh Raina | Cricket News
CHENNAI: Owing to a left knee injury, Suresh Raina has been sidelined from playing any competitive cricket since the end of the 2019 IPL. Raina underwent a knee surgery — his second — in August as a result, but the Chennai Super Kings (CSK) left-hander is fully fit once again and is aiming to gradually work his way back ahead of IPL 2020.
The 33-year-old is currently training in Chennai with former India and current CSK trainer Greg King. After an intense session at Chepauk on Thursday, he spoke to TOI on his comeback, the T20 World Cup in Australia later this year and more.
Excerpts:


You had the knee surgery in Netherlands in August. How are you feeling right now and what do you hope to achieve from these three weeks of training here?


It is very important to start your progress slowly. When you are returning from a knee operation, it is very important to not have any worries mentally while training. I think everything is falling in place. I just want to get strong. The environment is ideal to train here. I am getting specific training for the IPL. The Ranji Trophy is on right now, but I felt I was not ready for first-class cricket yet. I would have been taking a lot of load on my knee. So I thought I will take a few days in the nets to see how I am doing.
Why is it proving so difficult for the team to settle those middle-order slots?


The support of the captain and team management will definitely solve this middle-order drama. You can't expect (Shreyas) Iyer and (Rishabh) Pant to score big runs in every game. You have to give them the assurance that they will not be dropped. Iyer is very good at No. 4. I am sure Pant too will make a lot of difference because he is a left-hander. It is important to have that variety in the batting department. I do think Virat knows what he is doing. Rohit has a lot of experience too. So I am sure they will give youngsters the right advice.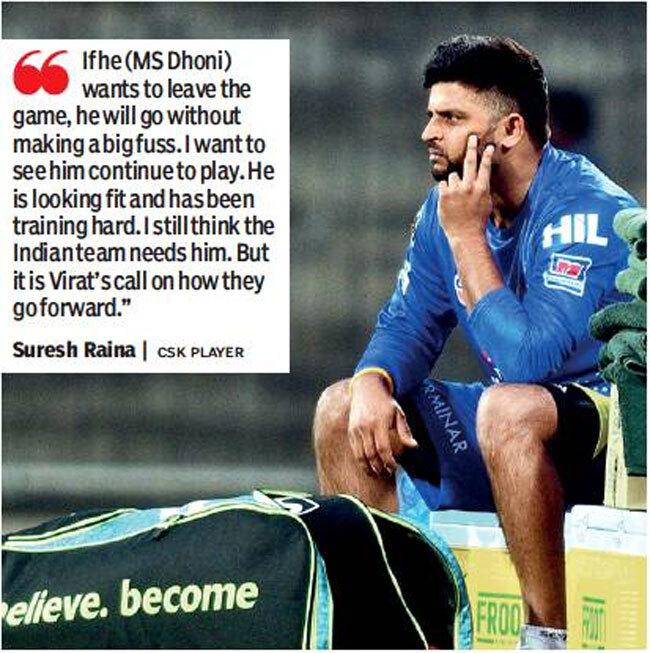 There has been a lot of confusion about Dhoni's future with the Indian team. As a close friend of his, what do you make of the whole thing?


Dhoni will probably be coming to Chennai in the first week of March to train ahead of the IPL. Right now, it is so good to see him spending a lot of time with his family. If he wants to leave the game, he will go without making a big fuss. I want to see him continue to play. He is looking fit and has been training hard. I still think the Indian team needs him. But it is Virat's call on how they go forward.
You had said a few months ago that you are looking for an opportunity at No. 4 in the Indian team. Post the injury, how do you see your hopes of making the cut for the T20 World Cup in October?


It is too early right now. I have always enjoyed my cricket, irrespective of where I play. I have not set any target right now. If I am able to do well in the IPL, I will be able to understand how I am shaping up. I have played enough to know what the situation demands. So my T20 World Cup hopes depend on my performance in the IPL. If I can make my knee strong and have a good IPL, then I know that I have another 2-3 years of cricket left in me. There are two back-to-back T20 World Cups. I have done well in T20 cricket.
The Indian team has been trying a few options in the middle-order lately. However, do you think a good IPL can change the situation for you?


Definitely. But if I want to play, I need to perform. The IPL is the best platform to get into the team especially when you are talking about the T20 World Cup. Everyone knows what sort of a player I am.
You have had success for India batting at different positions in the middle-order. What made you adapt to that challenge?


For any newcomer, it is important to get a lot of opportunities. I was lucky to play under Rahul Dravid when I came in. He gave me a lot of opportunities. Then I played under MS Dhoni, who understood my game. When Rohit (Sharma) and Virat (Kohli) get out, there is so much pressure on the middle order. You face different situations all the time when you are playing in those slots. I used to believe in myself. The skipper too has an important role to play.