If you are looking to make a career transition, a Master's Degree in Data Science is your way ahead
Among all the trends that have redefined the professional landscape in recent years, the shift towards data has been significant. Every industry and organisation is now building its data and analytics competency to drive performance and competitiveness. With data emerging as a key business asset, the need for a clear data strategy has become pivotal. This is why companies of every size and strength have hopped aboard the hiring bandwagon and are looking for skilled professionals who can decipher data for better decision making. The demand for data scientists is set to shoot up the roof in the coming years considering about 2.5 quintillion bytes of data are created every single day. Reports also suggest that this year will see a demand spike for data scientists by 28%. This leaves no doubt that data scientists enjoy huge employability with soaring annual packages. Added to it, the massive scale of hiring is not concentrated to just the scientific streams but has also percolated to multiple industry domains like e-commerce, retail, healthcare, banking, manufacturing, transport, and finance, among others.
This trend of employers building their data and analytics strength also gives out a clarion call to working professionals to upskill themselves and transform their careers. Most people looking to launch a new career in data science or transition into the field from a different specialization are usually confused if they should opt for a Master's degree in Data Science or settle down with a basic bachelors that will equip them with the essentials of data. Fact is, earning an advanced degree is always the safest route. In an extremely competitive job market, many graduates are finding it difficult to progress in their careers with a basic degree. Even in data-related hirings, recruiters look for people who are proficient and knowledgeable and can prove to be assets to employers in the company.
upGrad, one of India's leading online education platforms, has, therefore, been continuously developing programs for working professionals looking for advanced data science expertise. Its
Masters of Science in Data Science has enabled a slew of career transitions within the data industry. upGrad has now introduced 5 new specializations within the course to provide learners with comprehensive data expertise.


Collaboration with top universities


upGrad's Master's in Data Science in collaboration with IIIT Bangalore & Liverpool John Moores University, UK serves as a strategic opportunity for young professionals to become a part of the decision-making process. This course is the first of its kind online masters programme in India that will give working professionals the opportunity and flexibility to pursue an actual masters programme from a UK university while continuing to work in India. Established in 1823, LJMU has 3 campuses and over 22,000 students from across 100 countries. This program is for a period of 18 months with the first 12 months delivered by IIIT Bangalore and the remaining 6 months delivered by LJMU. Apart from providing students with global access to opportunities, the course comes at one-tenth the cost of an offline program. The top selected students also get a chance to attend the DeSe conference, technical sessions and keynote sessions in the UK without paying the participant fee. The programme that has enabled 500+ career transitions is now going a step further through the introduction of 5 new tracks within the program.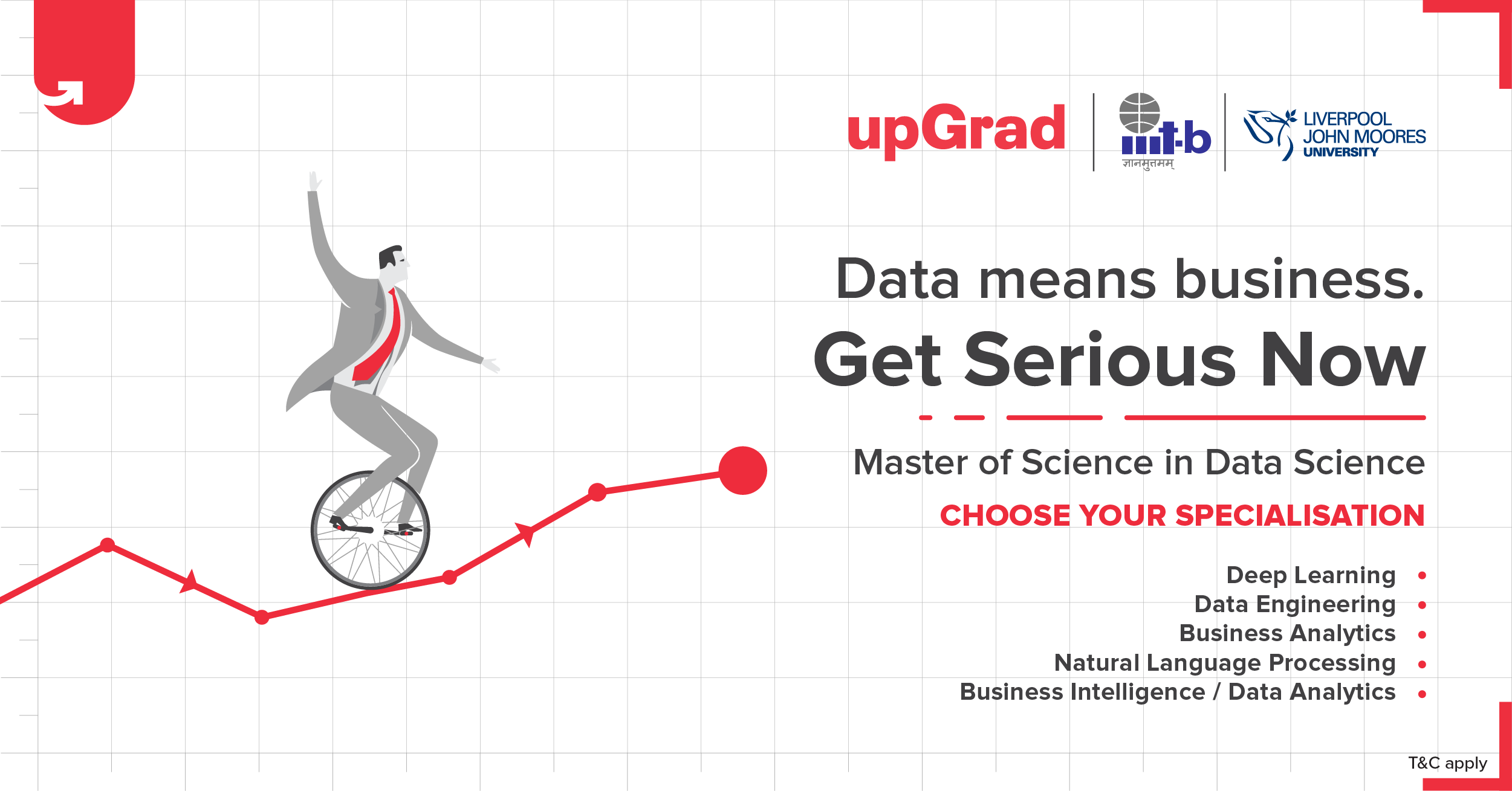 A look into the five new Data Science specializations that upGrad has introduced
upGrad's Master's in Data Science has been remodelled as per the evolving needs of learners. These five specializations have been designed to help aspirants upskill and learn job-relevant skills in a customized environment. Each track now has specific projects, assignments, and topics which are aligned to the learner's background to help them strengthen their command over the subject and help them leverage business expertise and team, project and/or client management skills.
This table indicates how upGrad has introduced the five specializations:
Tracks
Business Intelligence
Business Analytics
Deep Learning Specialization
NLP Specialization
Data Engineering
What's new
The pedagogy and content of
upGrad's Master's in Data Science has been developed by renowned faculty with industry experience. The syllabus is a perfect integration of online lectures, offline engagement, practical case studies, and interactive networking sessions. Not only does upGrad give full support to young professionals in their data science journey, it also caters to the needs of employers by training the future workforce in all data-related aspects.With companies investing big in recruiting data talent, this is the best time to invest in a Data Science course. upGrad's Master's in Data Science is a reliable ticket to fast-tracking your career and making yourselves more readily employable.
With registrations open for the next batch of upGrad's Master's in Data Science, it's time you give your career a leg up.
Click here to register.
Disclaimer: This story has been produced on behalf of upGrad by Times Internet's Spotlight team.