#HumWapasAayenge: Kashmiri Pandits stage silent protest at Jantar Mantar to mark 30 years of exodus | India News
NEW DELHI: Hundreds of Kashmiri Pandits, including children, on Sunday held a silent sit-in at Jantar Mantar in the national capital to commemorate the community's forceful eviction from Kashmir 30 years ago.
The protest was led by Jammu Kashmir Vichar Manch (JKVM), Kashmir Samiti Delhi, Roots in Kashmir (RIK) and Panun Kashmir. The protesters demanded that their human rights be restored as they have faced discrimination over the last 30 years.
"We have been made a forgotten community. Our culture is fading. Our existence is under threat," said Anoop Bhat, coordinator, Roots in Kashmir.
The protesters recited poems and songs which highlighted their pain in exile.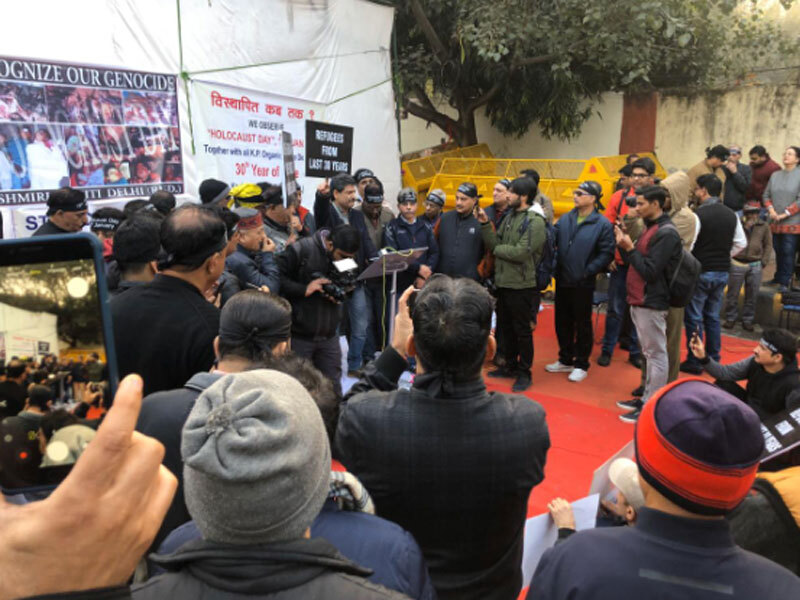 Neel Pandita, an 11-year-old boy with tears in his eyes, said, "I want to see my home. I want to live in my home. I request PM Narendra Modi to help me go home."
Dileep Mattoo of JKVM said, "Minds were imbibed with fear and insecurity and we were made to forcefully flee our native land in the wake of a freedom movement. Not only were we living under the sustained threat of ethnic cleansing by the terrorists, over five lakh Kashmiri Pandits were forcefully evicted, defamed, killed and women raped brutally simply because they were Hindus."
Another protester, Sumeer Chrungoo from Kashmir Samiti Delhi, said, "That dreaded night was possibly the longest night of our lives. Mobs from all over the valley had occupied every single road in Kashmir. They shouted slogans against Pandits, asking us to join them or perish or leave the valley."
Demanding a concrete effort by the government to "rehabilitate" and "restore the dignity" of Kashmiri Pandits, another protester, Mona Pandita said: "No single conviction has taken place against the people who have widely admitted that they were part of the killings. Besides, these cases should be made to come out of the Kashmir region and brought to the forefront so that our community, which is on the verge of extinction, gets national attention and receives adequate justice."
The event ended with lighting of lamps in memory of all those who gave their lives to preserve the unity and integrity of India in Kashmir.
It was this day in 1990 that saw around four lakh Kashmiri Pandits resettle outside the Valley as refugees.
To observe the anniversary, #HumWapasAayenge has been trending on social media with people sharing memories of how they fled and their wistful desire to return to the Valley.