Nirbhaya convicts to be hanged on February 1 at 6am | India News
NEW DELHI: Hours after President Ram Nath Kovind rejected the mercy plea of death row convict Mukesh Kumar Singh in the 2012 Nirbhaya gang rape and murder case, a Delhi court issued a fresh black warrant, fixing the hanging of all four men for February 1 at 6am.
Additional sessions judge Satish Kumar Arora also expressed displeasure over the delay while hearing the plea of Mukesh. The judge pointed out that all four convicts were given ample time to file mercy pleas but only one of them preferred to do so.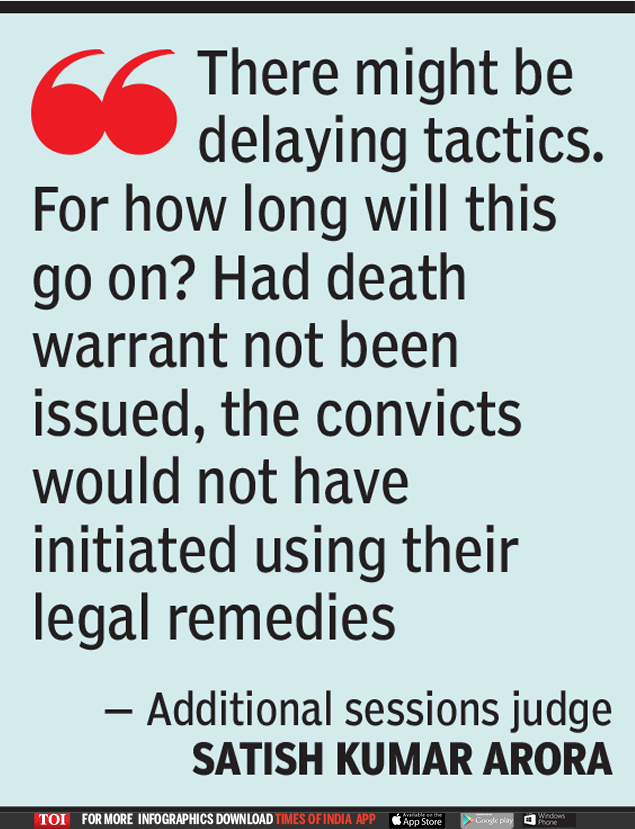 "There might be delaying tactics. For how long will this go on? Had death warrant not been issued, the convicts would not have initiated using their legal remedies," the court remarked, even as it passed fresh directions for a new date to execute the death warrants against the four — Akshay Singh, Pawan Gupta, Mukesh and Vinay Sharma.
The court's comments came after the jail authorities informed it about status of the convicts and how three of them are yet to exhaust all the remedies provided under law. Public prosecutor Irfan Ahmed also informed the court that Mukesh's mercy plea was rejected by the President on Friday and that the convict had been duly informed.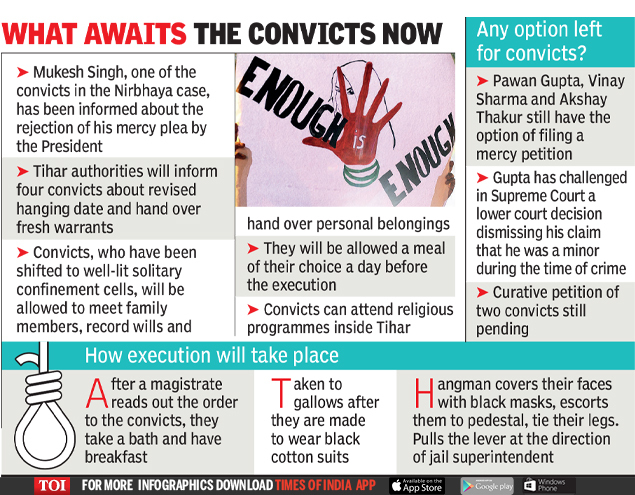 "None of the petitions of any convict is pending before any forum. So my prayer is that new death warrants be issued for execution of the four convicts," the prosecutor submitted. Accordingly, the new death warrant also covers the 14 days in accordance with a rule in the jail manual that states convicts to be executed must have a two-week window from the time their mercy plea is turned down.
During the hearing, A P Singh, counsel for the three other convicts, raised a fresh issue, claiming the four convicts cannot be executed until their appeal in a robbery case pending before the Delhi high court is disposed of.
"The Tihar Jail authorities have concealed the fact that appeals of the convicts in a robbery case are still pending in the Delhi HC. Their execution is not possible until the robbery case is decided," he claimed, referring to the 2015 order of a Delhi court where it held the four death row convicts guilty of robbing a carpenter named Ram Adhar hours before they committed the horrific gang rape.
The court had convicted them for robbery, kidnapping, wrongfully confining a person, voluntarily causing hurt in committing or attempting to commit robbery, dishonestly receiving stolen property under the Indian Penal Code for beating up and robbing Adhar. It had sentenced them to 10 years' imprisonment against which they filed an appeal in the HC which is still pending.