Made in India heart valve technology can keep your heart beating strong!
Sarah*, a French woman, was 83, when she had been warned that she had only a few hours to live. However, he decided to opt for a one-stop, state-of-the-art procedure that could grant him a new life contract. A year after the proceeding, he traveled to the United States to achieve his dream of heading to a big meeting at a prestigious conference. Now, at the age of 90, he continues to live an active and normal life.
What threatened her life and what procedure saved her?
Sarah had a medical condition called aortic valve stenosis (AS). The valve in your heart, which ensures normal blood flow from the heart to the body, had narrowed with the progression of age. This made it extremely difficult for him to carry out simple daily activities. He often felt breathless. There was a tightness in his chest, often accompanied by pain. She felt dizzy even with brief movements. In short, living had become a struggle.
The drugs did not provide any significant relief. The other treatment available was open-heart surgery for valve replacement. But that was an extremely risky option due to his age, the complex nature of the surgery, the long hospital stay, and the high probability of complications after surgery, especially during the recovery period of 10-12 months. Given these risks, the Paris surgical teams had refused to perform a surgical valve replacement.
At this point, Sarah consulted
Dr. Alain Cribier, Emeritus Professor, Department of Cardiology, Charles Nicolle University Hospital in Rouen, France. Dr. Cribier suggested that i consider an innovative non-surgical procedure called Transcatheter Aortic Valve Replacement (TAVR).
The procedure consisted of a small cut in the groin or chest area to pass a catheter tube to replace the diseased valve with a bioprosthetic valve. There would be no need to open the chest cavity or any need for general anesthesia as is generally required for surgery. The TAVR procedure would be performed for 30-40 minutes, and its recovery would be quick, requiring hospital stay of only 3 to 5 days.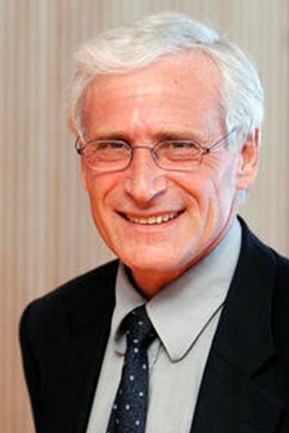 Dr. Alain Cribier, who has established TAVR therapy worldwide, shares: "In the 17 years since I performed the first TAVR procedure in 2002, more than 350,000 patients in 65 countries have undergone this revolutionary procedure. At first, when the technology was new, TAVR was recommended only to high-risk patients who could not undergo open-heart surgery. However, advances in technology and the availability of long-term safety data have resulted in TAVR becoming a routine and preferred procedure today. It can now be applied to a very high number of patients. In 2018, 68,000 TAVR procedures were conducted in the United States and 18,000 in France. At the hospital where I practice, we are performing 5-10 procedures a week."
However, the Indian scenario is very different, as the procedure has not reached many patients who may benefit from it. Approximately 300,000 patients with severe AS cannot undergo open-heart surgery due to old age, fragility or other medical reasons. [1] TAVR therapy can save lives for these patients. However, fewer than 1,000 TAVR procedures are being performed annually in India. Many lives can be saved by raising awareness of this promising procedure.
Meril Life Sciences, a Gujarat-based medical device manufacturer with a global footprint spread across 150 countries, is committed to bringing about this change. Known for indigenous research and development, and a broad portfolio of stents, surgical devices and orthopedics, the company has recently launched an advanced bioprosthetic valve. The new valve has a unique "hybrid honeycomb" design that allows doctors to precisely place the device in its natural position. This reduces the need for a new pacemaker, which is otherwise required in between 10 and 30 percent of patients receiving other available valve technologies.
Results of the
Scientific study MyVal-1
, published in the Euro Intervention Journal, demonstrate the benefits of this valve technology. There was a high success of the device, low incidence of stroke and low requirement of a permanent pacemaker implant after the procedure. A significant improvement in patient heart function and quality of life was also observed. After THE EC approval of this valve technology, hospitals in Europe have started using the valve because of these benefits.
"Companies like Meril Life Sciences are helping to bring the benefits of non-surgical TAVR therapy to more patients by training interventional cardiologists in India. They have also made this cutting-edge treatment more accessible and more affordable for Indian patients," summarizes Dr. Alain Cribier.
As these efforts materialise, many more Indian patients will have the opportunity to live life to the taste of their heart, just as Sarah did.

*
Patient's name edited to ensure privacy.
[1] Based on the incidence data applied to the Indian population,
J Am Coll Cardiol. 2013;62(11):1002-1012. doi:10.1016/j.jacc.2013.05.015
Disclaimer: This article was produced on behalf of Meril Life Sciences by Times Internet's Spotlight team